Rabbit farmer not looking back, 35 years later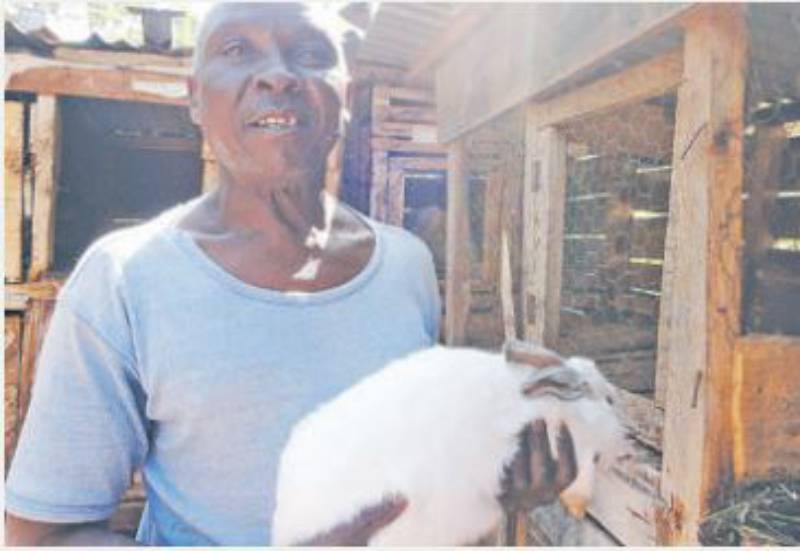 Rearing of rabbits has often been viewed as a practice for the young boys in rural areas. But for one man in Mutira area in Kirinyaga County, this is a farming activity like any other despite his old age.
The compound is filled with flowers and only the sound of bees buzzing and the slow music from a radio is heard as we enter the compound.
We find him in the company of his wife going about their daily chores; feeding the goats, rabbits, and chicken.
Martin Mbute started rearing rabbit's way back in 1984 and has never looked back since. He says his earlier ventures such as cattle keeping became expensive and wanted a cheaper farming venture.
After agonizing over what to do to earn a living, he settled on the rearing of rabbits with the support of his loving wife.
They started off with rearing the traditional breeds of rabbits which he says took time to mature and could not weigh more than four kilograms.
He, therefore, opted for the exotic breeds. "The traditional rabbits ate a lot and did not gain much weight. They also took much time to mature and therefore opted for the other breed," Mbute says.
With this experience, he started rearing the exotic rabbits and started with one to the hundreds that he owns today. He has various breeds from California white, chinchilla and New Zealand and says that though it has not been easy he has no regrets of the step he took 28 years ago.
At first, neighbors and friends laughed at him and thought that he was wasting his time and money in the field meant for young boys. They also said that he won't go far and was bound to stop rearing them as soon as he realized that this was not what he was supposed to be doing.
He has since proved them wrong for having maintained this practice for more than two decades.
He has won many awards in Kirinyaga and Nyeri county agricultural shows, his biggest moment being at the Nairobi international agricultural shows where he won the best exhibit overall in the rabbit's category in 1995 where he was awarded a cup for the best farmer of rabbits in Nairobi.
"I was thrilled when I was awarded the cup, my efforts and good work was now being recognized. I went home a happy man and have since dedicated myself to the rearing of rabbits though I have also ventured in the rearing of chicken and goats though in small numbers," he says.
Mbute, however, says that it has not been a smooth sail as it seems and just like any other business or work there are some challenges in rabbit rearing.
"The cost of rabbit food referred to as pellets are very high as at for now. Before I used to buy one bag of 70kgs at Sh1,500 but today I have to buy it at Sh.2,500 because I cannot entirely rely on weed from the farm with this large number of rabbits."
This has forced him to reduce the number of rabbit from over 300 to less than 100 currently.
Mbute is waiting for the rains so as to increase his stock for the very reason that he needs some crops and weeds in the farm to help him sustain a large number of rabbits.
"You cannot depend on artificial feeds alone as this makes rabbit farming very expensive," Mbute says.
There was the problem of the market in earlier years but he says that today there is a ready market for rabbit meat and its product.
"Kenyans have since realized that there are more benefits in eating rabbit meat as its low in cholesterol, among other health benefits because it's white meat," Mbute says with a smile.
Want to get latest farming tips and videos?
Join Us