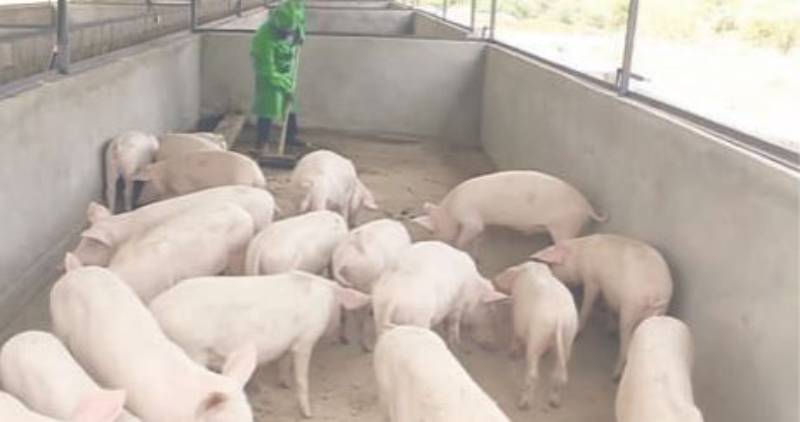 Steve Ngari Makindu moves across the extensive pig stay checking the wellbeing of piglets at his farm located in Ishiara area of Mbeere, Embu County.
He is the mind behind Toda Farm that currently has over 250 pigs and sells at least 50 mature pigs to Farmers Choice Company among other butchers every month. The social farmer keeps three pig breeds including Landrace, Large White and Duroc which he says are readily available and hardy, therefore, making them possible to withstand a wide range of climatic conditions. He also crossbreeds the three.
"Compared to other animals, the profit margin in pig farming is wide and that is why I started keeping them. The fact that I keep livestock for profits encouraged me to venture into pig rearing," Ngari says.
Over the years, pig farming in Kenya has gradually risen to become one of the top agribusiness ventures. Reports indicate that pork accounts for 38 percent of the world's meat production, making it very popular meat.
Initially, Ngari was a poultry farmer for two years but abandoned the venture late last year after learning that the profit margin was very small. Besides profits, poultry venture demanded a lot of attention because feeding the birds was expensive, thanks to the high cost of feeds.
Thinking of a more profitable venture to engage in, Ngari bumped into several pig farmers where he was convinced that the venture is profitable. He chose to try his hand at the end of last year, and for sure it has paid off.
"The pigs I sell weighs between 80 to 100 kilograms. Each kilo fetches between Sh220 and Sh300 depending on the market. If the demand is high, the cost per kilo also rises," he notes. He also sells piglets aged five months to farmers at Sh25,000.
Selling 50 pigs weighing an average weight of 80 kilos at Sh220 sees him making a cool Sh880, 000 in a single month and that is why he has been able to construct a pig feeds production industry in his farm.
He says making own feeds will help him keep more pigs as he targets to be selling at least 100 pigs in a month by mid next year.
Ngari understands that it is not enough for one person to swim into riches while fellow villagers sway in poverty and that is why he started training village mates among other locals on pig management and sales for free.
"I thought that many farmers who have formed groups are able to negotiate for better prices of their produce as well as help positive and fast growth of the economy within the society. This is why we organize a free three-week pig management training to willing farmers in the area," he reveals.
He adds, "During this period, we keenly examine them and establish those who are able to keep at least five pigs and mentor them. We help them acquire the best breeds, quality feeds and constructs good houses for the pigs. We also help them get markets for their pigs."
He says this is a long term move aimed at ensuring that all idlers are phased out from the community, therefore, controlling the rate of immorality. "Moreover, I will benefit as they (nurtured pig farmers) will be buying feeds from me."
Ngari notes that pig farming does not require a lot of space as 10 mature pigs can live in a coop measuring 10 by 14 feet.
Domesticated pigs which are called swine reproduce twice a year giving birth to an average of eight piglets. This makes their number to multiply within a short period of time. Swines gestation period is three months.