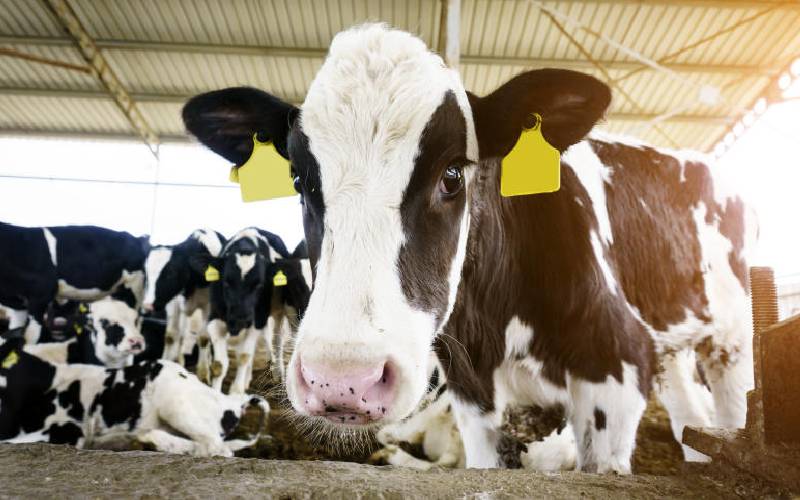 Kenya's dairy industry is among the most lucrative and manufacturing activities with great potential to turn around the country's economic capacity.
With an estimated population of more than 4.5 million dairy cows, Kenya is well known as one of Africa's biggest milk producers.
Kenya contributes 30 to 40 per cent of Africa's five per cent production. The country also has one of the highest per capita consumptions of milk in Africa, which is 120 litres compared with the African average of 50 litres.
This is projected to double to 220 litres by 2030, backed by a milk demand growth rate of seven per cent per annum.
Just like other sectors the dairy industry is reeling from the shock of Covid-19. This worsened some of the constraints small-scale farmers already faced. They include low quality and quantity of feed, lack of reliable statistical information on milk market outlets and poor rural infrastructure.
KALRO research scientists at the Food Crops Research Institute, Muguga, Moses Langát
Speaking at the Dairy Connect show on Farmers TV on Friday, KALRO Naivasha director at the Dairy Research Institute Peter Omoni Nyamora admitted that the pandemic has hurt dairy farmers, especially those who have smaller parcels of land.
They have to travel long distances to get animal feed. This was affected during the lockdown as the farmers could not access their feed suppliers in areas that were placed under the lockdown.
Although the situation is stabilising with the lifting of the lockdown, farmers are yet to get to the point where they need to be.
On her part, Extension Services at Kenya Animal Genetic Resources Centre acting director Dr Roseline Wambugu added that the closure of schools and restaurants, who are among the farmers' customers, hurt their businesses.
"The Covid-19 restriction measures from the Ministry of Health affected their disposable income."
With more people staying at home to reduce the spread of the coronavirus disease, the consumption at home has increased, thus reducing supply for business.
Also affected are the dairy cooperatives who have little raw milk for processing as the farmers' output has been affected.
KALRO-Naivasha director of the Dairy Research Institute, Dr Evans Ilatsia, added that farmers'output was further hurt by the pandemic such that they could not access technological counsel seeing as agricultural officers' movement was reduced.
Wambugu, a veterinary surgeon with 12 years' experience, said the government should not be completely criticised on measures taken to cushion the farmer. "We may not be doing enough, but whatever is being done is meant to help the small-scale farmer to boost milk production."
She said the economic stimulus that the government is putting in place will help, seeing as the pandemic provides virgin waters and no authority in the world has experience on how to deal with a pandemic such as Covid-19.
Discussions are underway on the importance of a Dairy Fund and insurance packages to cushion the farmers.
Nyamora advised farmers to stop selling their produce as individuals and form groups or join cooperative movements.
"This will help them fetch good prices through contracts or sell in bulk."
Farmers were further urged to strive to work with government extension officers to understand how to improve their production.
"The county governments have mechanisms and kitties which can help them during such challenging times."