Poor policies on donkey may diminish its population - experts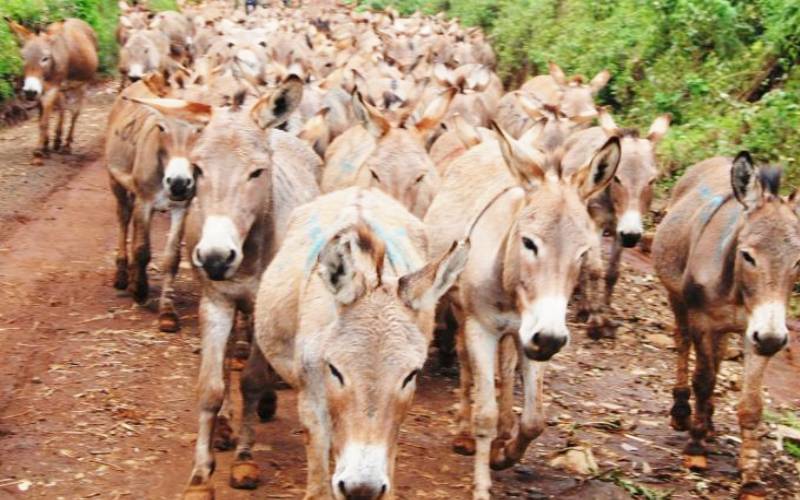 Donkeys play a vital role in our farms, especially in rural areas, for the transportation of goods to the market as well.
However, these beasts of burden are dwindling in their numbers. Data shows that 15 per cent of Kenya's donkey population is slaughtered daily for meat and hide.
This has significantly hurt the donkeys' reproduction. But experts have now suggested breeding as a measure to counter the dwindling donkey population and the struggling hide industry.
Donkey owners in Nakuru and Naivasha have been decrying the licensing of the slaughterhouses in the regions, saying it has led to the increased cases of donkey theft.
Those responsible are stealing the donkeys to meet the demand for the supply of meat outside Kenya.
One farmer in Naivasha said he has lost 25 of his 30 donkeys to thieves. Another added that the criminals are involved in the theft as it has turned out to be a lucrative business to sell the animals to the abattoirs.
Donkey breeders now urge the government to think of better ways to protect them or come up with a bill to ban the slaughter of donkeys.
In February, the government ordered donkey slaughterhouses closed as concerns rise over the theft of the animals by gangs seeking their skin.
Kenya has become the epicentre of a fast-growing industry in Africa to supply donkey skins to China, where a gelatin called ejiao made from boiling them down is used in a traditional medicine believed to stop ageing and boost libido.
Kenya has four licensed donkey abattoirs —more than any other country on the continent — which slaughter around 1,000 donkeys a day, according to government data.
But growing Chinese demand for ejiao has led to a black market with gangs hired by skin-smuggling networks to steal donkeys, inciting anger in communities who depend on the animals for livelihoods, farming or transport.
"We want to stop that criminality. We want to stop that brutality," Agriculture Cabinet Secretary Peter Munya told reporters after meeting protesting donkey owners in Nairobi.
Another farmer added that the cat-and-mouse game between the donkey owners and the government will not aid the situation.
"If the situation persists, by 2022 we will not have any donkeys in Kenya."
Today, Kenya has about 1.2 million donkeys compared to the 1.8 million a decade ago.
According to Brooke East Africa, at least 1,000 donkeys are slaughtered daily in Kenya.
The report said the projection of the donkey slaughtered population revealed that by 2023 all donkeys will have been slaughtered.
Rift Valley is home to three donkey slaughterhouses; Goldox in Baringo, Silzah in Turkana and Sabriliant in Naivasha.
Eastern hosts one slaughterhouse in Machakos.
Livestock and Fisheries CAS Dr Jebii Kilimo said the dwindling donkey population will indirectly hurt women who will in turn have to perform the duties themselves.
Speaking on a Farmers TV Special on why we must preserve donkey numbers, Dr Kilimo further added that steps are underway to increase the donkey population.
The majority of Kenyans have also called for the closure of donkey slaughterhouses in the counties.
Dr Kilimo said there have been government interventions to ban the slaughter of donkeys, an order that took effect in March. All the slaughterhouses were closed.
Want to get latest farming tips and videos?
Join Us