KVDA distributes 4,600 mango seedlings to farmers to boost earnings, feed processor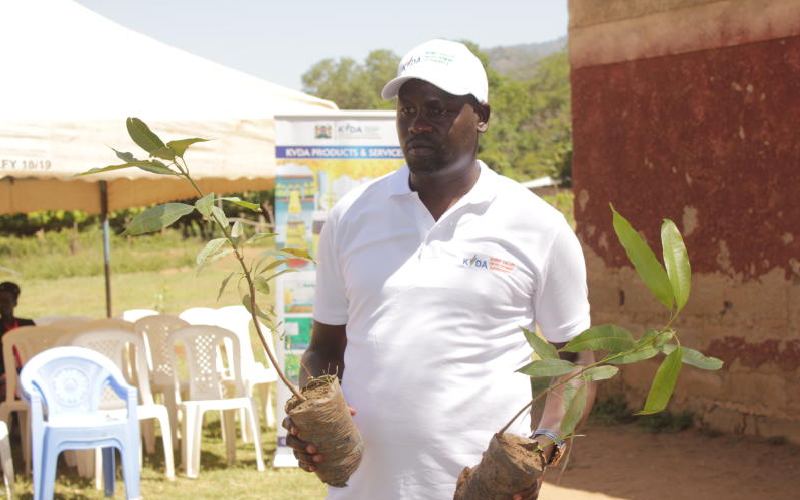 Kerio Valley Development Authority (KVDA) has distributed 4,600 certified mango seedlings to farmers in Kabulwo, Elgeyo Marakwet county. The authority targets to plant 500,000 improved mango varieties to boost earnings of farmers and contribute to environment conservation.
KVDA chairman Mark Chesergon (pictured), said a mango factory established some years ago in Tot, Marakwet East is still in need of mangoes for juice processing. The mango plant has a capacity to process over 100 tonnes of mangoes in every season, which, according to the KVDA, is still below the target.
Chesergon said during off season, the machines lie idle, a move they are planning to change and have round clock mango processing. Chesergon said they have already propagated over 20,000 seedlings in Elgeyo Marakwet on a two-acre seedbed where farmers will be supplied with the seedlings during the onset of rainy seasons.
"Mango is a key product that is also a sustainable fruit, when planted. Farmers will continue harvesting for years. Kerio Valley is a rich area with capacity of producing quality mango fruits for export due to rich arable soils," Chesergon said while distributing the seedlings.
Chesergon said they are also earmarking to change livestock farming that has been a source of conflicts among the communities. He said by introducing alternative and sustainable sources of income like mango farming, peace and stability may be restored in the region.
"We will ensure every household has planted at least 100 mango seedlings in their farm," he added.
KVDA targets institutions like schools, churches, and other government institutions to plant mangoes. Grafted Ngowe and Apple mangoes are ready for harvesting in three years with the correct crop management which include enough water, proper pruning, and control of mango flies among many.
Want to get latest farming tips and videos?
Join Us