Relief for farmers after getting nod to sell their coffee without brokers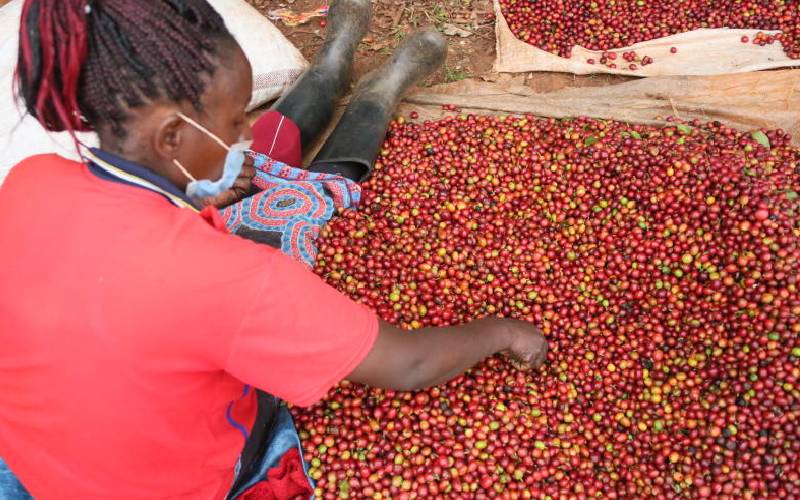 Coffee farmers in the Lower Eastern region have something to smile about after the government issued them with a licence to sell their coffee directly.
This is unlike in the past where they did so through brokers or agencies.
The news was disclosed at a meeting of coffee farmers' representatives from the region held in Machakos town yesterday.
Addressing the delegates, chairman of the Machakos co-operative union (umbrella of coffee farmers in the region) Patrick Katingima, said after many years of waiting, at last, the government has issued the union with a licence to sell coffee for its members directly instead of using brokers.
However, the chairman emphasised that the beneficiaries of the direct sale will only be affiliates of the union.
He said United Eastern Coffee Marketing Company will be the sales agency for the union, a name they formed during the application for a direct sale of their coffee on behalf of the union.
"Today we are a happy lot after the Capital Markets Authority finally assented to our application for an independent licence to sell our coffee," he said.
The union has affiliate coffee societies in Machakos and Makueni counties.
CMA has authorised the union to start selling its members coffee with immediate effect, he added.
During the meeting, Stephen Wambua was elected as the first chairman of the sales outfit with six committee members who will assist him in decision-making.
Further, the chairman urged the farmers to fully utilise the new opportunity of selling their coffee directly by bringing more produce to the newly established Lower Eastern Coffee Mill (LECOM).
The Machakos Sub-county Co-operative officer David Maina urged the sales agency for the union to exercise transparency in their transactions so as to gain confidence from the members and give them the morale to increase their production. At the same time, Wambua assured the farmers of total commitment towards his duties.
He further called on farmers, especially those who used to take their coffee elsewhere, to bring it to LECOM so that they can benefit from the new sales entity.
Want to get latest farming tips and videos?
Join Us