Researchers develop hardy cassava varieties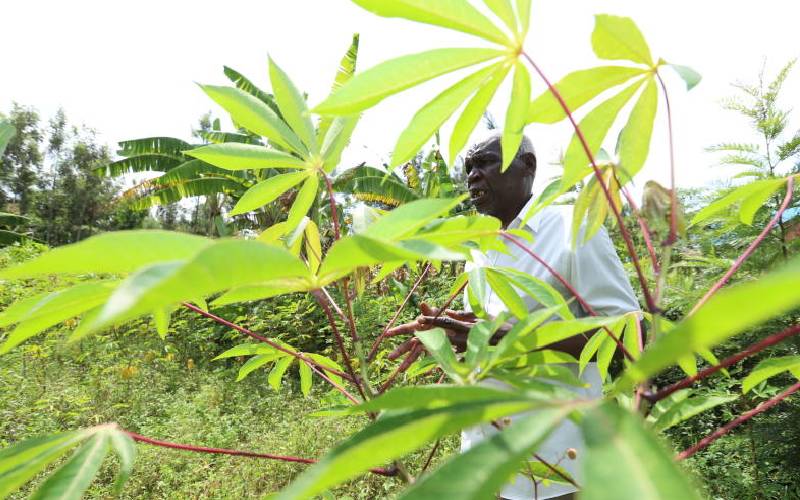 Researchers have developed disease-resistant cassava varieties. Dr Catherine Taracha, the director Kenya Agricultural and Livestock Research Organisation (Kalro), Biotechnology Centre, says this is in a bid to improve cassava production.
She said the Cassava Mosaic Disease (CMD) and Cassava Brown Streak Disease (CBSD) are the most common viral cassava diseases that may cause up to 100 per cent loss in cassava production.
These diseases transmitted by whiteflies and sharing of cuttings by farmers have posed a great challenge to cassava farmers and breeders in Africa. But there is hope.
"The new cassava varieties include an improved variety that is resistant to CBSD and another one that is resistant to CMD and CBSD. Apart from the disease resistance, the improved varieties are not different from the conventional variety," says Dr Taracha.
Dr Taracha observed that evidence from planting the CBSD resistant variety in Uganda and Kenya demonstrated that there was sustained resistance across multiple generations and different locations.
Dr Taracha explains, "There were three things we looked at. Cassava plant characteristic remained the same. The nutrition composition was not altered and no negative effect on the environment was observed during the trials."
The technology used to produce virus-resistant crops such as papaya, plum, beans and squash which have been approved for commercialisation in other parts of the world, was used to develop the CBSD resistant variety.
"A part of the DNA of the virus is integrated into the plant genome. The plant defenses are activated to recognise, target and degrade the virus pathogen," she explains.
However, conventional crossbreeding was done to develop the dual disease-resistant variety which is resistant to CMD and CBSD.
She says: "We took our improved cassava with resistant cassava brown streak disease and crossed it with a farmer-preferred variety that had latent cassava mosaic disease resistance. This was done several times and the seed germinated into seedlings which were taken through various evaluation."
The Kenya National Biosafety Authority approved the variety for environmental release. This means it will now be put under the national performance trials (NPTs). The NPTs involve testing the Distinctness, Uniformity and Stability (DUS) of the new cassava variety. This will be done for two seasons or two years.
Want to get latest farming tips and videos?
Join Us