Why I grow mushrooms on a prime plot in town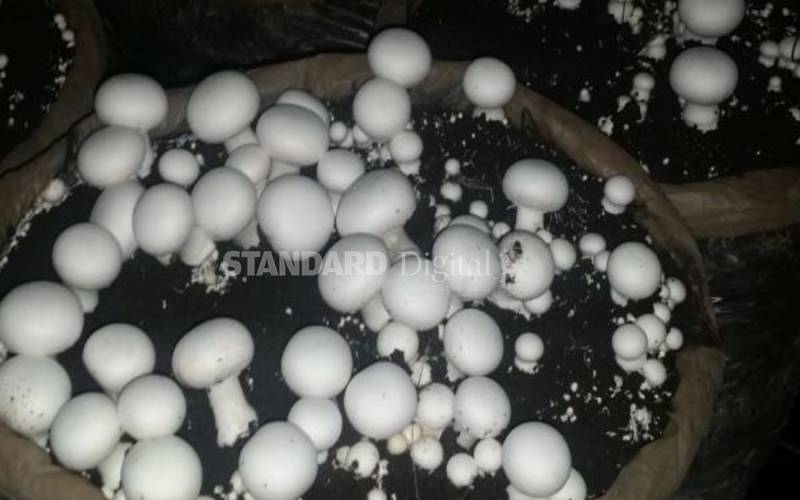 When you have access to prime land in any town and are thinking of investment, the first thought is setting up a business or rentals. And that is what exactly many landowners with prime spots in Murang'a town are doing. But one Richard Mwangi is going against the grain and has no regrets.
Mwangi has converted a family-owned school on prime land in Murang'a town into a mushroom growing farm to the surprise of many.
"Having done my research and seen the potential of mushroom farming, I decided to use this land for that purpose as opposed to constructing rentals," he tells The Smart Harvest and Technology.
So passionate was he about the project, he resigned from his plum job as an Information Technology specialist to concentrate on mushroom farming.
"I noticed a gap in production of mushrooms and an ever-growing demand. A good number of middle-class families are embracing healthy diets and mushroom falls under that category. But there were few suppliers to meet market demand," Mwangi observes.
Nutritionists say mushrooms are a rich, low-calorie source of fibre, protein and antioxidants and popular with health-conscious clients.
Choosing best type
For his project, Mwangi chose button mushrooms because they are good for making salads. Setting up a mushroom farm is easy and affordable, he says.
With prime land already, for him, he built mud grass thatched huts for growing the medium. These structures are ideal because they are great for the regulation of temperatures.
Mwangi also planted bananas outside the structure to regulate the temperatures.
He advises interested farmers that though mushrooms are on-demand, their production is involving and a slight mistake leads to a huge loss.
The optimal temperature for the fungi to flourish is 24 degrees Celsius or 75 degrees Fahrenheit.
"Hygiene and regulation of temperatures is key in mushroom production. Any slight mistake in the process can make one suffer a serious setback. I once suffered losses for failing to adhere to strict guidelines," Mwangi recalls.
The farmer says the process begins by wetting the wheat straw for about a week and turning them daily until it turns dull yellow. It is then mixed with chicken manure and gypsum before the next stage which is composting. Here, pipes are connected underneath the substrate to accelerate decomposition.
The substrate goes through pasteurisation stage at 55 to 60 degrees celsius for about eight hours.
The structure has some holes where monitoring of temperatures is done. The substrate is then conditioned back to 46 degrees celsius to boost the growth of mushrooms.
According to Mwangi this is where many farmers go wrong due to lack of monitoring.
"If conditioning is not done right, then the substrate paves way for a conducive environment for infections and ammonia. If a farmer fails to get things right at this stage, he proceeds to put the substrate in bags and then plants the mushroom seeds but germination fails to happen."
After the conditioning stage, the substrate is then put in bags of five to six kilograms and kept at 22 degree celsius before planting the mushroom seeds.
"After two weeks, the substrate is colonised by mycelium and one must wait for the seeds to turn white from dark brown for two weeks. Casing is then applied to the colonised substrate after application of agricultural lime and coco peat."
Mwangi sells his mushrooms to supermarkets and high-end restaurants in Murang'a town.
Want to get latest farming tips and videos?
Join Us