Looking to venture into agribusiness? Do ample market research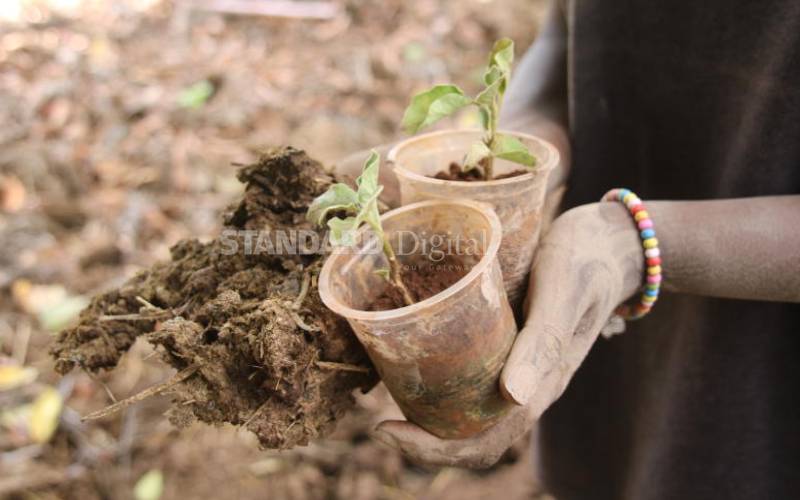 As youth look into exploring the available opportunities in agribusiness, Caroline Mwangi has advised them to do ample market research before diving in.
The Kimplanter Seedlings director said market research guided her path in dealing with spinach, cabbage, sukuma wiki, and tomatoes. She first started with passion fruit seedlings but realised other crop seedlings were in high demand.
Speaking on the agribusiness show on Vybez Radio, Mwangi said there are many opportunities in agriculture that youth can pursue such as app development, marketing, and IT.
However, it requires passion and dedication as "you will not make your first million shillings in the first month".
Mwangi, who started her seedlings project as a hobby, is a trained HR and CPA professional. Today she plants seedlings and sells them to farmers. Additionally, she offers agronomy services, guidance, and mentorship to farmers.
Mwangi started farming at 21 years and has been in the business for seven years.
After quitting her office job only two years after venturing into agriculture, Mwangi discovered new-found freedom of mind and creativity. The financial returns were also rewarding.
But she admits that taking the plunge from a salaried job to farming did come with its challenges such as lack of support from friends and family who thought it unwise to lose the job security she had in employment.
"Farming is a business like any other - you will make profits, but you will also make losses," she says.
Mwangi advised those looking into joining agribusiness to seek guidance, study and do research as well as go back to school if need be. It was her research that exposed a gap in the market for seedlings.
Today, she distributes seedlings to farmers in Kiambu, Murang'a, and Kajiado.
The Kimplanter Seedlings chief adds that all businesses need to evolve, and this can only be attained by maximising specialisation.
"You cannot be an expert in all. There are many sectors and areas to specialise in."
When Mwangi first started, she only had 15,000 seedlings but today distributes up to 1.2 million seedlings per month.
The seedlings business is capital intensive and the clientele unlimited.
Mwangi also notes that to fetch high-quality seedlings, one needs to be ready to part with more money.
But the seedlings industry is not a bed of roses. Losses are incurred when they overgrow or are exposed to excess fertiliser.
There is also the risk of perishability, where half of the stock is meant for walk-in customers who sometimes do not come.
Other challenges are natural calamities such as flooding.
Mwangi's advice is to identify an area of interest and passion as it is what will "carry you through the bad days".
"Start small and let your business grow," she adds.
Want to get latest farming tips and videos?
Join Us