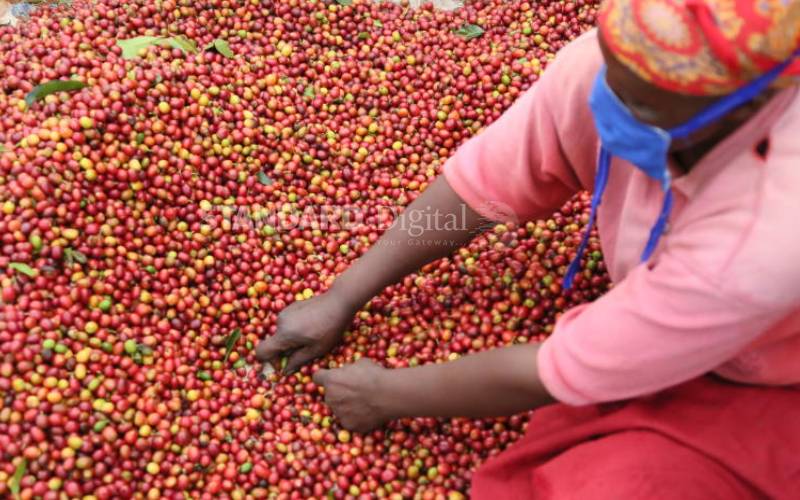 At least 7,000 coffee farmers from Nyeri County have applied for the Sh3 billion coffee revolving fund, according to the Kenya Planters Co-operative Union (KPCU).
KPCU chairperson Henry Kinyua on Wednesday held a briefing with Nyeri Governor Mutahi Kahiga on the progress of the cherry fund disbursement and the Sh1.5 billion coffee revitalisation programme.
"This is the first disbursement of funds, during a main coffee season, and governor Kahiga wanted an update on the status of applications and disbursement in Nyeri," Kinyua stated.
Speaking after the closed door meeting, Kinyua said KPCU had disbursed Sh12 million to farmers across the country and was in the process of evaluating the applications of Nyeri farmers.
Some cooperatives societies in Nyeri County have already made their applications. New Gikaru have 100 members who applied for the cherry advance, while Othaya Farmers' Cooperative sent in 2,000 applications to KPCU for consideration.
For coffee farmers to qualify for the cherry advance, they must fill out application forms and deliver cherry to their respective cooperatives.
"Farmers can apply for an advance of up to Sh20 per kilo of cherry delivered to their society. This amount can be sent to them directly through their mobile phones or bank accounts," the KPCU chair noted.
"If all the 20,000 coffee farmers in Nyeri County apply for the cherry advance, we believe they can benefit from up to Sh200 million from the fund."
The national coordinator Eng. David Njogu said the team is also planning to modernise machines and drying beds to ensure quality coffee. He also noted that there is a need for more training of extension officers.
Kahiga expressed his commitment in supporting coffee farmers to ensure they reap maximum benefit from the crop.
Coffee farmers can now access the cherry fund application forms from the subcounty offices and their local societies.
According to the Agriculture Department County report for the 2019-20, Nyeri farmers produced 21 million kilos of coffee, which is an average production of 1,738 tonnes per hectare.
Production was affected by excess rain, leading to a drop by almost 30 per cent.
The report added that high incidences of Coffee Berry Disease, leaf rust and no flowering affected production. "This combined with low soil fertility and poor management of co-operatives also contributed to low production and low prices."