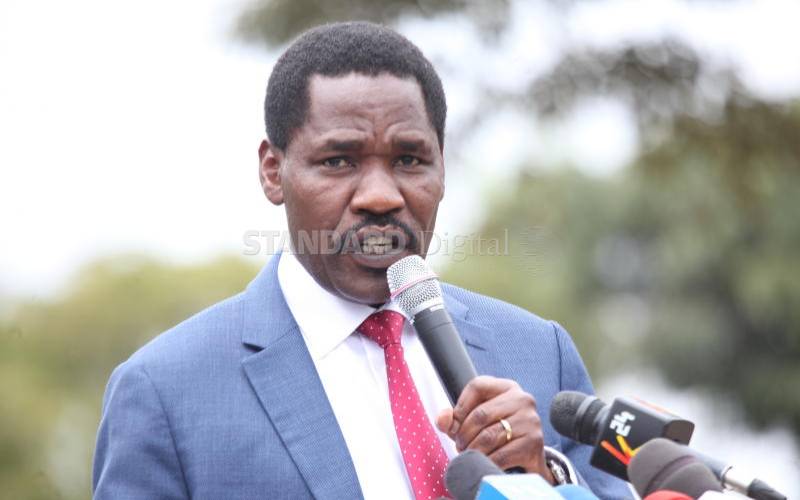 Agriculture CS Peter Munya (pictured) has said the bill that proposes sweeping reforms in the coffee sector is ready and if implemented will improve farmers' livelihoods and enhance its contribution to economic development.
Munya said the regulatory reforms are critical in revitalizing the sorry state in the coffee sub sector to ensure farmers get the value of their toil.
He said the government has already set aside Sh2 billion revolving fund to bail out coffee farmers amid challenges like market volatility, pests, diseases and negative impacts of climate change.
Munya said he had presented the bill to the government printer and will soon be tabled before the National Assembly for debate.
Addressing coffee farmers during a public participation exercise in Gatundu South, Munya said streamlining key value chains in the coffee sector is long overdue and asked MPs to support the master plan to revive the sector.
"The bill seeks to re-establish a coffee specific regulatory structure and a farmer-friendly legal framework providing an enabling ecosystem for development and growth," Munya said.
According to the new coffee regulations as outlined in the Bill, a nine-member Coffee Board of Kenya with representatives drawn from all sectors including the county governments through the Council of Governors will be established to police the sector.
"Our target includes refurbishing coffee factories, infrastructure development and reorganization of farmer cooperatives. In the proposed changes factories are allowed to register as stand-alone and independent one factory societies if the farmers approve," he said at Gathage grounds in Gatundu South.
The sweeping changes have outlawed millers and marketing agents from providing loans or advances to farmers at an interest and instead they can access the proposed cherry advance a 3 per cent interest rate.
"All millers shall make all disclosures necessary to enable farmers make an informed decision. This includes milling costs, handling and storage costs, other fees and charges and milling losses as a percentage," he said.
According to the CS farmers will now be free to select millers and marketing agents of their choice.
This will be done at a farmers' meeting at the factory where at least three millers shall pitch for their services.
The millers will have to disclose milling outcomes per grade of clean coffee, milling losses and prices per grade fetched in the market.
"The bill includes stringent anti-trust provision in order to address entrenched anti-competition conducts in coffee trading that include transfer pricing, insider trading, price fixing, vertical integration and corruption," the bill proposes.
It has further proposed the revival of the Kenya Planters Co-operative Union (KPCU) and the Coffee Research Foundation with the latter meant to concentrate on coffee research for the benefit of farmers with a direct line of funding.
"The government will also procure and distribute subsidised fertiliser to coffee farmers to boost yields. We will also refurbish warehouses to improve the storage of coffee beans and reduce post-harvest losses," he said.
President Uhuru Kenyatta in 2019 announced the establishment of the Sh3 billion Cherry Advance Scheme that will cushion more than 700,000 small-holder coffee farmers from bottlenecks like delayed payments and high cost of production.