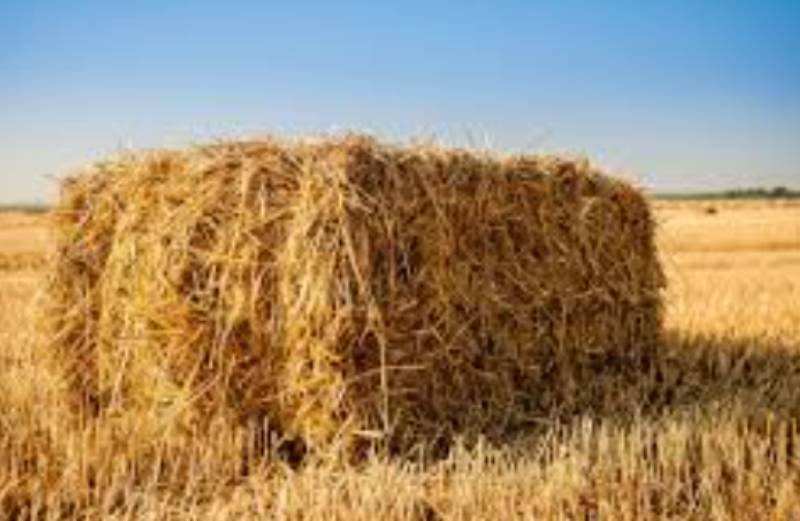 As the saying goes, 'Make hay while the sun shines.'
Hay making is the process of turning green, perishable forage into a product that can be safely stored and easily transported without danger of spoilage, while keeping nutrient loss to a minimum.
This involves reducing its moisture content by drying the forage in the sun. The process of drying the green crop without significant change in aroma, flavor and nutritive quality of forage is called "curing".
Feeding hay to livestock helps reduce the amount of concentrate feeding, and thereby, the cost of feeding.
Crops with thin stems and more leaves are better suited for haymaking as they dry faster than those with thick, pity stem and small leaves. These include: Oats, Desmodium, Lucerne, Maize, Sorghum, Napier grass and Rhodes grass.
Leguminous fodder crops such as Cow pea, Lucerne, and others should be harvested at the flower initiation stage or when crown buds start to grow. Grasses and similar fodder crops should be harvested at the pre-flowering stage. At this stage, the crop has maximum nutrients and green matter.
The process of making hay
Forage is cut before it is fully mature (long before it has seeds) to maximize its nutritive value. Although cutting hay early will result in lower total volume, the increase in nutritive value will compensate for reduced yields.
Leaves are more nutritious than the stems, and so when cutting forage, it is important that it is cut with as much leaf and with as little stem as possible.
Do not leave cut forage to dry in a moist environment, as this will encourage the growth of molds.
The cut forage is laid out in the sun in thin a layer, raked a few times and turned regularly to hasten drying.
Chopping forage into small pieces after drying will hasten the dying process.
The drying process may take between 2 to 3 days.
Hay should not be over dried as it may start to ferment and also become a fire hazard.
The dried hay should ideally be stored in form of bales when the moisture content is low, ideally less than 15 per cent. This helps storage and requires less space.
Leaves are more nutritious than the stems, and so when cutting forage, it is important that it is cut with as much leaf and as little stem as possible.
Field curing is conducted during bright sunny weather but may result in bleaching of the forage and loss of leaves due to shattering.
How to store hay
Hay must be stored in a dry environment.
Hay can be baled and stored under cover or can also be stored by creating hay stacks. Stacks may be covered by plastic sheets to keep out rain and prevent from exposure to excessive sun.
Use of Box for Baling
Make a box with dimensions 40 x 50 x 75 cm.
Put 2 lengths of sisal rope in the box.
Put the hay into the box and press it down tightly by jumping on it.
Tie the box securely.
Remove the bale and stack.
Some challenges with hay making
If hay is dried in a moist environment, for example during heavy rains season, mould may grow on the hay.
Drying the hay too fast may lead to shattering of the delicate parts of the plant, causing a subsequent loss of nutrients.
While the sun shines, make hay.
Author; Dr. Paul R. N. Kangethe (BVM, UoN)
Email; [email protected]