From flooded paddy rice market centre to a town, the new Ahero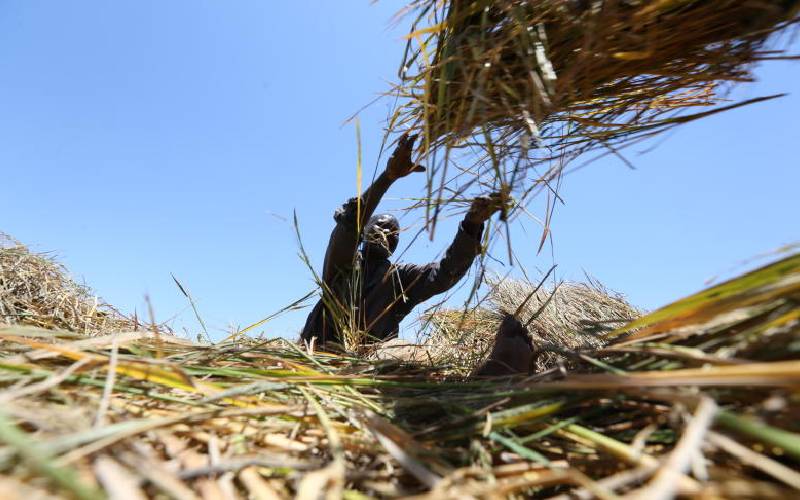 The mention of Ahero usually evokes memories of flood victims asking the government to rescue them from flood menace.
Despite the perennial flooding, Ahero, which is located on the banks of River Nyando in Nyando sub-county, Kisumu County, is best known for rice production, which has become its economic mainstay.
After years of waiting, the small market centre has just acquired a new status after it was elevated to a town, which now promises better economic prospects.
It is the second township to be elevated after Kisumu Governor Anyang' Nyong'o commissioned Maseno town a few weeks ago.
Three other urban centres in the county - Muhoroni, Kombewa and Katito - are also set to be elevated to towns.
Prof Nyong'o said the elevation of the centres would enable them to access finances from development partners.
But for Ahero, the journey has been long and winding.
Mzee Peter Odundo recalls how the centre started with a single shop where only kitumbua, a form of mandazi, would be prepared and sold at "hela achiel" (a unit smaller than one cent) in 1930.
"Kitumbua is the only thing one would buy and we would use "hela moja" before we started using 'simon', a coin with a hole in the middle," Mr Odundo says.
Those days, there were only a few grass-thatched houses in the area.
This was before a few individuals started using "debe" (tin) containers to build houses.
Ahero used to be inhabited by two groups - Nyakach and Kano people - who would fight endlessly to own the place.
Odundo says the fierce battles saw Kano people drive Nyakach group out of Ahero, the land they really loved, thus the name. (In Luo, ahero means "I love..."
Loved centre
Karen Onam, 84, who got married in 1951, says that people loved to go to Ahero, which is situated 25 kilometres from Kisumu town.
Ms Onam, who was then a maize seller, says there was only one posho mill in the area and her fellow flour sellers would go all the way to Kisumu city to have their maize ground.
The area had only one school, which was locally known as "Kafather" that was built in mid-1956 after a missionary church that was started as a small house was built in the area in 1948.
This is where women would deliver and residents sought treatment.
Richard Okore, who was born in the settlement in 1939, says Ahero started as a small market and many people loved to visit the area.
According to the father of 15, the police station built next to the missionary church was moved to its current location beside Ahero Hospital due to floods, which started in 1960.
An irrigation board was established in the area in 1968, two years after people started engaging in rice farming.
The rice scheme was launched in 1967 by the first president of Kenya Jomo Kenyatta and Tom Mboya.
The elevation of Ahero to a township is aimed at increasing its economic potential, which mainly depends on rice farming estimated to be worth Sh1.4 billion.
Farmers in Ahero have been hard hit by floods for months. In some parts of West Kano, farms are still flooded.
Rice schemes
According to a senior scheme manager at the Ahero Research Station of the National Irrigation Authority in Kisumu Joel Tanui, Ahero centre, the rice schemes in the area produce Sh1.4 billion per season (six months).
"We are expanding the area under irrigation within Ahero to make use of upgraded facilities," he said.
With the elevation of Ahero to a town, 7,000 rice farmers will benefit from 100 tonnes of rice seeds to help them recover from the loss they experienced during floods.
The farmers will also receive 13,000 bags of fertilisers by December to help them boost their farming.
Geoffrey Ochieng, Chief Officer for the Department of Lands, Urban Planning, Urban Renewal, Housing and Projects Management for Kisumu County, says the upgrading of Ahero into a town will increase its economic potential.
He said the department had set aside Sh12 million to improve a 390-kilometre road within the town.
Want to get latest farming tips and videos?
Join Us