Cassava farming taking root in Kilifi county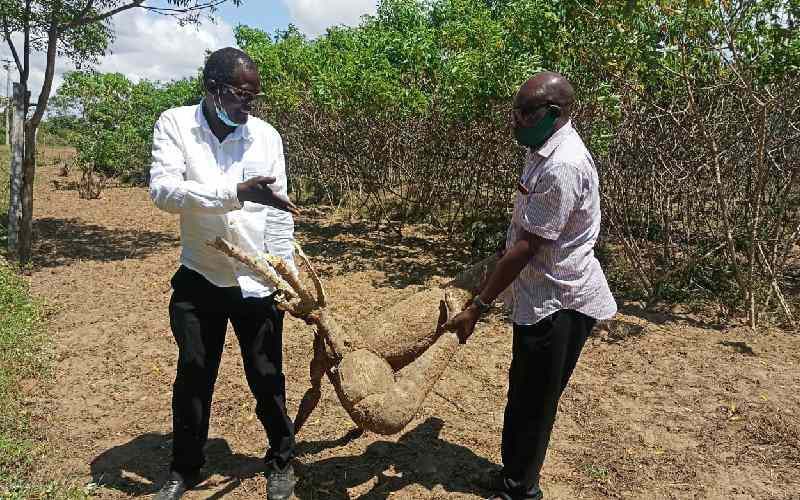 Cassava farming is increasingly taking root in Kilifi county with acreage under the crop increasing each year.
This is after the Kilifi county government completed the construction of a Sh25 million cassava milling plant at Tezo in Kilifi North subcounty.
Remus Mngumi, a resident of Baguo village in Malindi Sub County, is among thousands of farmers engaging in cassava cultivation.
He told journalist that his seven-acre plot that he had initially put under maize production was yielding very little returns due to the harsh climatic and soil conditions of the area.
Mngumi decided to venture into cassava production but using the traditional cassava cuttings which are resistant to drought and says he is happy with his current venture.
The retired chief accountant in a local non-governmental organisation said he realised the benefits of cultivating cassava too late in life.
"I worked for many years as an accountant in Malindi where I left in 2010 and returned home to go into farming and I started with maize and realised there was no profit, then got engaged in cassava cultivation after being educated on its financial benefits," he said, adding that he has never regretted abandoning maize farming.
The farmer who mostly depends on local market outlets for his produce plants the local cassava variety that takes eight months to mature.
"When I started cassava farming, my focus was on the traditional varieties which was not doing well until I decided to visit the Kenya Agricultural and Livestock Research Organisation (KALRO) and bought the new variety for my farm. It matures fast and I get strong cassava tubers that fetch a good market price," he said.
Take a quick survey and help us improve our website
Take a survey
Mngumi said the profit he gets from cassava farming helps him pay school fees for his children and take care of his bills, unlike when he worked as an accountant.
He added that at the moment, what farmers in the area needed was a value addition plant that will offer market to their products than them relying on the normal markets.
"There are many farmers planting cassava but they have not realised its full benefit because of low value chain interventions. It is my hope that the cassava milling plant will change that scenario and turn on hopes for thousands of farmers," he said.
The Kilifi county government is seeking an investor to run the Sh25 million cassava milling plant that it constructed.
Luciana Sanzua, who is the Agriculture CEC, said the construction of the plant at Tezo area is complete and only waiting for a suitable investor.
"The milling plant will play a big role in our cassava value chain interventions and we are in the process of identifying the investor who will operate and buy raw materials from our farmers," she said.
According to Sanzua, Kilifi is among the three highest producers of cassava. About 123,000 acres are under the crop within the county.
"Nationally, Kilifi is among the three highest produces of cassava and among our people, cassava is the second staple food after maize," she added.
The county government is now working with KALRO to improve the seed material that is disease-resistant and distribute it to farmers.