3,000 Homa Bay cotton farmers get free pesticide and seed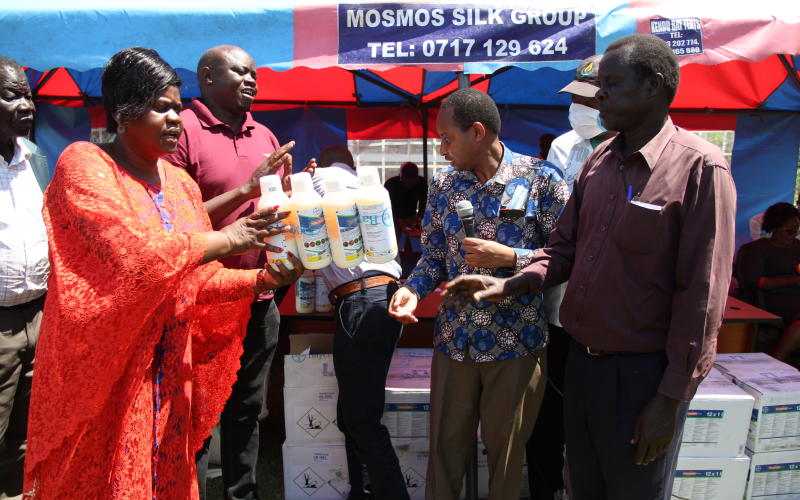 Efforts are underway to revive cotton production which was the key driver of economy for residents of Homa Bay County between 1962 and 1990s.
Textile manufacturer, Rivatex, in collaboration with Homa Bay Woman Rep Gladys Wanga have intervened with various measures to enable farmers grow cotton.
Wanga and Rivatex General Manager Patrick Nyaga presided over the distribution of 26,000 litres of pesticides to 3,000 farmers who propagate the cash crop.
The seeds were distributed to farmers free of charge at Pala trading centre in Karachuonyo constituency.
The distribution came after the farmers received cotton seeds free of charge in April.
Nyaga assured the cotton farmers that they will buy all their produce. He said Rivatex currently depends on cotton from Tanzania and Kenya and therefore it will be essential if more farmers produce the crop.
"We are going to buy all cotton produced by these farmers. That is why we are supporting them free of charge," said Nyaga.
Wanga said she is liaising with various development partners to establish a cotton ginnery in Homa Bay County to boost cotton production.
"Establishing a cotton ginnery in Homa Bay County will encourage many farmers to resume cotton production," Wanga said.
She expressed optimism that cotton will boost the economy of farmers in the area.
"Cotton enabled many farmers to pay school fees without difficulties. This is a reliable economic activity which can transform lives of many people," Wanga said.
She urged farmers to venture into cotton production.
"Rivatex has assured us of the market. Let us now grow cotton," she added.
Cotton farmers expressed concern that production of the crop declined seriously due to the collapse of cotton ginneries in the county in the early 1990s.
Homa Bay Cotton Farmers Co-operative Union chairman John Akoko said the establishment of a ginnery will enable them sell their crop conveniently.
"Many people are ready to grow cotton but the only problem is the lack of a ginnery. We appeal for creation of one," said Akoko.
He said reduced fish in Lake Victoria has left many people jobless.
"Lake Victoria is being depleted. The only alternative source of income is cotton production," Akoko said.