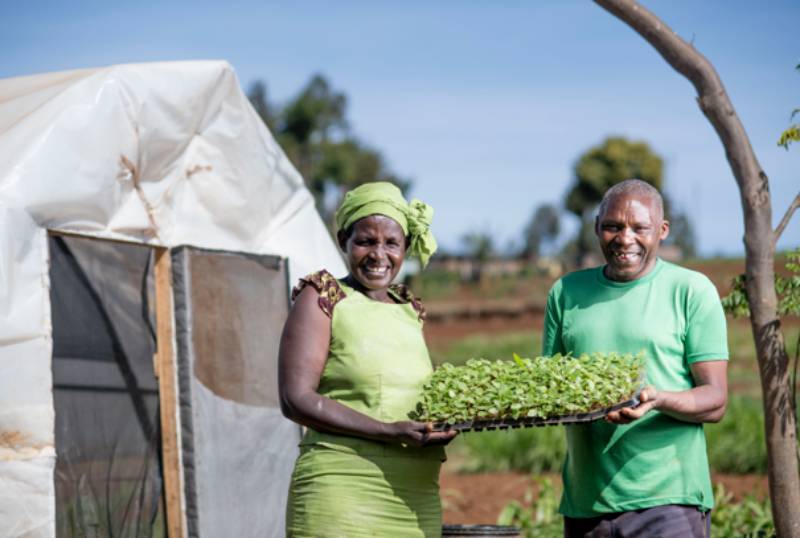 The potato plays an important role in Kenya's food and nutrition security plan—part of the Big Four Agenda. It's nutritious, delivering iron, potassium, and Vitamin C to millions.
Approximately 800,000 smallholder farmers in Kenya, and another three million people— transporters, distributors, processors, vendors, retailers, and exporters—derive their livelihoods from the potato. The National Potato Council of Kenya (NPCK) estimates the annual potato harvest in 2019 at Sh50 billion. Yet farm income growth from potato lags with low yields: 8-15 t/ha, about half its potential.
Collaborative efforts by the national and county governments, private sector and development partners has seen targeted interventions rolled out to address major challenges including shortage of quality seeds, high pest and disease incidence, sub-optimal production practices and poor marketing infrastructure among others.
The International Potato Center (CIP), a research for development organization, is working with the Kenya Agriculture and Livestock Research Organization (KALRO), NPCK, Kenya Plant Health Inspectorate (KEPHIS), county governments, and the private sector to strengthen the potato sector in Kenya. Key achievements include:
Increased production and access to certified seed: When combined with good agricultural practices (GAPs), the use of certified seed can double yields. To rump us seed production, CIP jointly with KALRO have introduced rapid seed multiplication technologies such as aeroponics and apical rooted cuttings to supplement the existing technologies for the production of starter materials.
Public and private seed multipliers are now producing certified seed in strategic locations to facilitate easy access by farmers. With the majority of the trained seed multipliers seeking certification from KEPHIS, high-quality seed will soon be easily accessible by farmers closer to their farms.
Improved potato varieties: Over the last seven years, over 30 high yielding varieties with either processing attributes, climate-resilient traits, and pest and disease resistance have been released by KEPHIS. Find out about available varieties on the NPCK website - https://npck.org/available-seed
Seed storage technologies: Seed multipliers have adopted diffused light stores, a low-cost seed potato storage technology, thereby reducing storage losses while availing high-quality seed.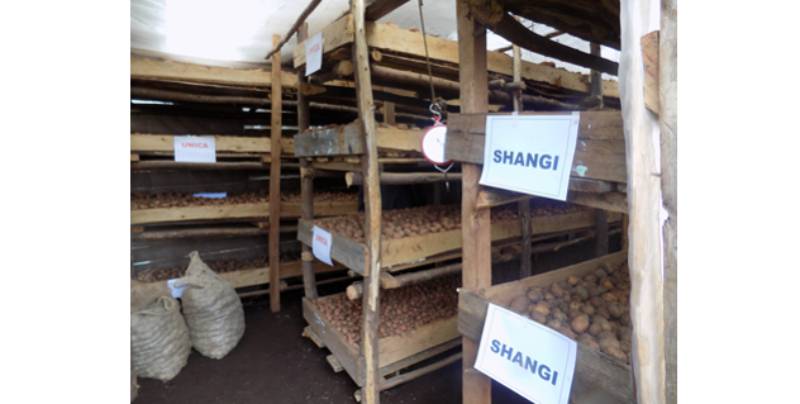 Weather information: The Kenya Agricultural Observatory Platform (KAOP), by KALRO, is providing actionable information including weather forecasts, agronomic advisory and agricultural insights helping potato farmers make informed farm decisions.
Adoption of best practices: Working with county governments of Meru, Elgeyo-Marakwet, Uasin Gishu, Nandi, Bungoma, Taita Taveta, CIP through the Accelerated Value Chain Development (AVCD) program funded by Feed the Future-USAID has reached over 70,000 potato farmers with new technologies, basic numeracy and business skills enabling them practice farming as a business to improve their productivity.
Viazi Soko, a digital platform for farmers: With 100,000 registered users, Viazi Soko, is a one-stop information platform for potato farmers, providing information on certi?ed seed, produce outlets, and prevailing market prices of ware potato.
Better potato markets: Farmers are coming together in producer organizations to aggregate and market their produce collectively. Currently, through AVCD, six potato producer organizations have received training on good governance, leadership, cooperative management and business skills.
Potato regulations: Following the launch of the potato regulations 2019 that required standard packaging in 50kg bag in a bid to protect farmers from exploitation, sensitization of stakeholders and the development of supportive by-laws continues.
For more information about this work, please contact Dr. Dinah Borus – [email protected] or visit: www.cipotato.org; www.kalro.org; www.npck.org
Dr. Dinah Borus, Senior Research Associate, International Potato Centre (CIP).