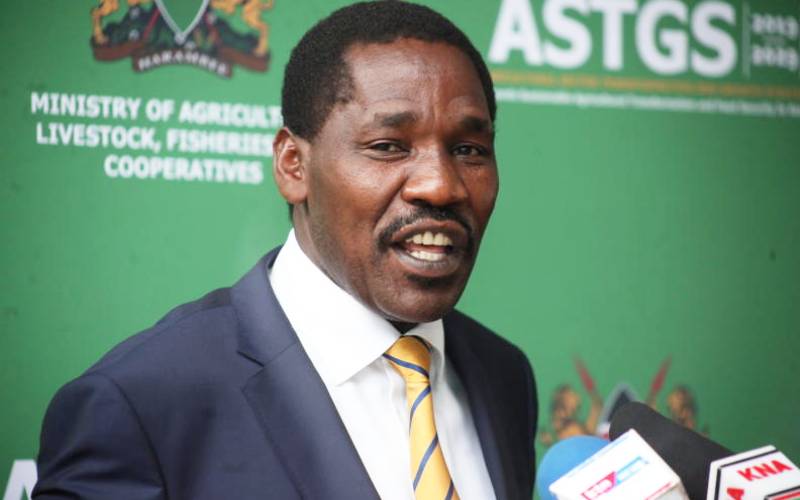 A section of tea farmers affiliated to Gitugi Tea factory in Nyeri is now calling for consultation between Agriculture CS Peter Munya on the proposed tea regulations 2020.
Speaking in Othaya yesterday, the farmers said there was a need for the CS to convene an all-inclusive meeting with key stakeholders on the tea reforms before he goes ahead to implement them.
Munya is expected to hold a consultative meeting today at Othaya Stadium before visiting Ragati and Chinga tea factories.
Led by John Muraguri, the majority of farmers claimed they are yet to understand the new rules since no adequate public participation was carried out.
Similar sentiments have been expressed by farmers from Iria-ini tea factory led by Bishop Joseph Kagunda of Mt Kenya who want another round of public participation.
"We are not opposed to the reforms being undertaken by Munya. All we want is more consultation between key players in the sector among them Kenya Tea Development Agency (KTDA) which has for years been managing our factories," Muraguri said.
Public participation, Muraguri noted, was not adequately carried out owing to the outbreak of the Covid-19 pandemic in March.
This, he explained, left out most of the farmers who wanted to give their views and input concerning the proposed regulations.
"Let them be subjected to public participation afresh. It will be for the good of all tea farmers who we believe have the biggest stake and role to play in deciding the future of this crucial sector," he explained.
Teresia Muthoni said the process which ended on April 30 was done online due to Covid-19, thus denying them ample time to fully participate in the exercise.
Muthoni, however, said some proposals were beneficial especially the proposal to abolish voting for factory based on the number of shareholdings a farmer has.
"Voting by one man one vote is most welcome as all farmers will be able to participate in electing their leaders in a fair and transparent manner," Muthoni added.
She however expressed concern over the proposal to slash the number of directors from five to three, saying the move is likely to affect smooth operations of the KDTA managed factories.
Similar sentiments have been expressed by farmers from Iria-ini tea factory.
Led by Bishop Joseph Kagunda of the Anglican Church of Kenya (ACK) Diocese of Mt Kenya West majority called for more consultations to allow more farmers to air their views.
The proposed reforms are currently before the National Assembly committee.