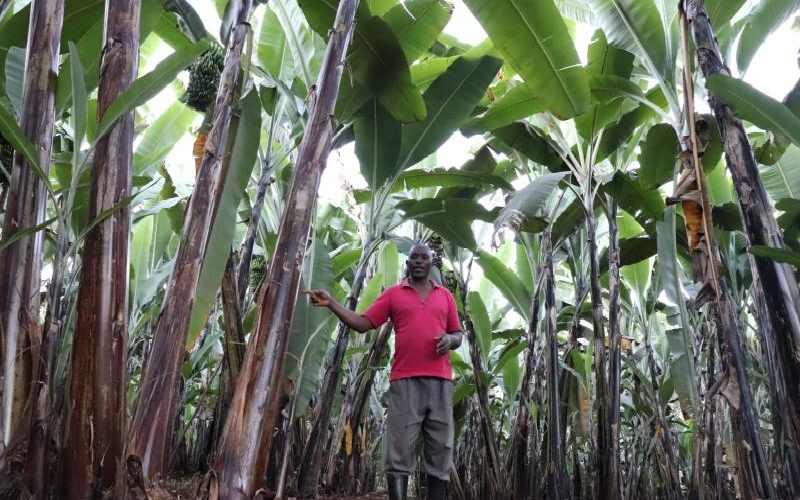 On arrival at the plantation, the Smart Harvest team is awed by the rather tall banana pseudo-stems standing stately and uniformly like a cavalry of soldiers.
The banana plants form a deep green canopy while the ground is clear of weeds or the dried up leaves that one normally finds in orchards.
The scene is at Cyrus Muriithi's four acre banana farm in Gituro village of Kianjege area, Kirinyaga Central Sub County; an area characterised by fertile soils and favourable weather. Bananas thrive in altitudes of between 0 and 1,800 m above sea level and rainfall of 1,000 – 2,000 mm/year. Optimal temperature for growth is about 27 degree Celsius.
"The tall pseudo-stems are characteristic of the Kiganda variety whose farming I have specialised in. The banana is usually strong and rarely require props to support it," says Muriithi. That is true because only a few pseudo stems in farm are propped.
The kiganda variety is reknown as cooking banana (matoke). In the Mt Kenya region it is famed for a carbohydrate rich dish mixed with potatoes called gitwero.
Muriithi who is one of the most successful banana farmers in Kirinyaga County has been farming bananas since the year 2000.
Before settling on bananas he has grown virtually every other food crops farmed in his neighbourhood such as tomatoes, french beans and vegetables.
In his nascent days in banana growing, the farmer not only cultivated the Kiganda variety but also also Kampala and Nyoro (Cavendish bananas) for ripening for consumption as fruits.
Two years down the line, he zeroed on Kiganda after he was impressed by its "faster maturity, resistance to diseases and less dependence on props.
"From planting, a banana produces its inflorescence at eight months and the bunch is mature for harvesting in about four months for Kiganda but takes a while longer for the other varieties," he tips.
As an inspiration to aspiring farmers who have no land, Muriithi does most of his farming on leased land-usually 10 or 20 years leases.
In the four acre leased farm at Gituro area, he has sunk a water well and installed an electric submersible pump to ensure continuous supply of water to the bananas. He supplements that by another well from a neighboruing farm. Having observed a spacing of 15ftx15ft, he has 150 stools, translating to 600 stools. He allows four stems per stool.
He recently leased another farm in Kiamuthambi area and planted bananas in April this year. He has more bananas at his home where he has also built a storied house from proceeds of banana farming.
In planting, the seasoned farmer asserts that farmers should dig holes with a depth of one feet and upper dimensions of 3ft.
"Banana roots usually spread all over rather than penetrating deep into the soil. Some farmers maintain depths of 3ft but I don't see the need for it," he counsels.
He adds a wheelbarrow of well composted manure per hole and mixes it with top soil then places a healthy sucker and adds soil.
He follows this by providing water; advising that a farmer should provide as much water as possible or at the very least two bucketfuls per week.
"Since I allow four stems per stool, I ensure to nourish with a bucketful of manure for every stem twice annually. Experts recommend that one adds manure in March or August before the rains set in. However, with a reliable source of water you can add manure any time of the year," he says.
The farmer sheds light that during manure addition, the farmer digs round the banana and ends up disturbing the roots. If after adding manure no water is provided immediately, the manure burns the roots stunting the plant's growth.
When he harvests mature banana bunches, Muriithi chops the stems and the leaves into fine pieces that he allows to decompose then adds to the stool to enrich it.
He has a machine for chopping the stems, easing his work.
Marketing the banana has never been a problem due to the high demand but also because he has a reliable buyer.
"I have a buyer who comes for my bananas and buys all the harvested bunches at a uniform price. Whereas other farmers sell using kilograms, my arrangement with the buyer has worked for us. The best thing is that he buys all my harvest," says Muriithi.
His biggest sale this year was 150 bunches, but he continues to make sales every week.
With bananas maturing in about a year, from every stool he ends up selling four banana bunches annually.
Muriithi reveals that banana prices oscillates between highs and lows but notes that the price has remained low since the Covid-19 pandemic broke out.
"Last year a time like now, I sold my bananas at Sh850 per bunch. In January this year, the price tumbled to Sh700 which is the norm as more bananas mature during dry periods. The price has remained at that and even in August fell further to Sh600 unlike in other years when it should be fetching high," he says.
A sudden disease afflicting a stem is among the challenges that he faces. During the dry season, Muriithi recalls of a disease characterised by yellowing of leaves and which hampered growth, but notes that it has disappeared with the onset of the sunny period. Other times, a stem collapses and the bunch comes tumbling and breaking to pieces leadign to losses.
Theft has also been a problem, but he has countered that by hiring a night guard.
Having been at banana farming for two decades, Muriithi is upbeat that its farming is profitable when one observes the best husbandry practices.
"If that wasn't the case, I would ditched it a long time ago, but look I continue to add my bananas. Those planning to venture into banana farming should research on the best variety and tend it well. It will employ them ," he says