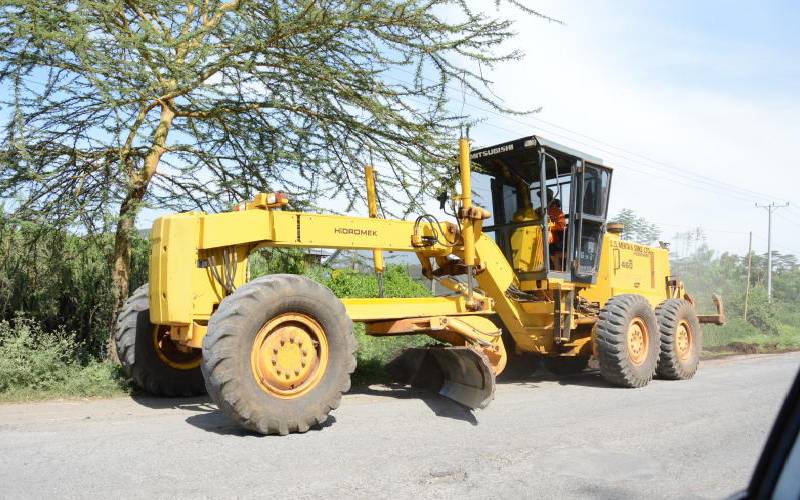 A new economic survey on the 30km Moi South Lake Road that leads to tens of flower farms, hotels, geothermal wells and Hells Gate National Park indicates that it's worth Sh65 billion.
Despite the value of the road, investors have continued to lose millions of shillings every year due to its poor condition and shoddy workmanship.
This came as the investors, who include flower and vegetable farmers and hoteliers, questioned the quality of the ongoing works on part of the road.
The government had initially moved to reconstruct 30km of the road but this has been reduced to 17km due to a shortage of fund, with the rest of the section set to be patched up.
According to Fresh Produce Exporters Association of Kenya (FPEAK) CEO Hosea Machuki, the road is critical to the horticulture sector.
He noted that for years the road had been neglected despite its economic value, leading to huge losses among investors.
"This road is worth Sh65 billion as per the study on its economic value and farmers will save 35 per cent of their production costs if it's fully rehabilitated," he said.
Speaking during the launch of the study in Naivasha, he said it would require Sh2 billion to upgrade the road which would serve users for more than 20 years and stop the monthly patching up.
On his part, Kenya Flower Council CEO Clement Tulezi noted that 65 per cent of the country's flower exports are from Naivasha.
He termed the road as a national shame as the government moved in to rehabilitate sections of the road after farmers' outcry.
"The government has for years released funds to support other sectors like maize, tea and coffee and it's sad that such a critical road that earns the country billions has been forgotten," he said.
Tulezi called for an upgrade of the road from the current status of rural-road to an urban highway so that funds to rehabilitate it would be increased.
This was echoed by Okisegere Ojepat, the CEO of Fresh Produce Consortium of Kenya (FPC-Kenya), who termed the ongoing works as shoddy and wanting.
"This is one of the most critical roads in the country but unfortunately it has been neglected and we shall petition the State to make sure the shoddy work is addressed," he said.
A member of the Naivasha Municipality Board, Absolom Mukuusi, said the county government is keen on the rehabilitation of the key road.
"The county government has identified this road as one of the most critical infrastructure in the region and we are keen to make sure the shoddy work is addressed," he said.