Farmers blame loopholes in Busia for cheap sugar imports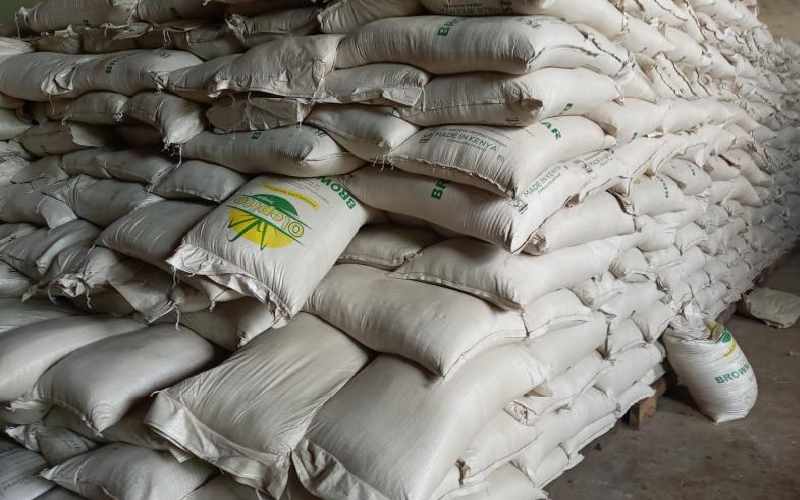 Influx of cheap sugar from across the border has been attributed to the existing loopholes at the Busia One Stop Border Post (OSBP).
Despite the ban on the importation of brown sugar from Uganda by Agriculture Cabinet Secretary Peter Munya, the sweetener is brought into the country.
Owners of the Warehouses in Busia are ferrying the sweetener from across the border on trucks and lorries through the border post before it is packaged for sale.
Now local sugarcane farmers want stringent measures put in place to curb the smuggling of sugar.
The officials of the farmers' lobby group, the Kenya Sugarcane Growers Association (Kesga) called for total overhaul of Kenya Revenue Authority (KRA) officers and security personnel at the border, accusing them of colluding with unscrupulous traders.
Kesga Secretary General Richard Ogendo underscores the need to stem the increasing sugar smuggling through Busia border post.
"There are so many loopholes at the Busia border which unscrupulous traders are taking advantage of to smuggle goods into the country," said Ogendo.
He continued," We are privy to the information that some government officers are colluding with traders to bring in brown sugar from Uganda that is why a truck can move all the way from Busia to Easleigh in Nairobi."
Unlike Uganda which has installed digital scanners that is capable of screening every good that goes to their country, Kenya has none on her side.
This, Mr Ogendo said, was making the illegal trade at the border to thrive. Ogendo's sentiment was backed by the national secretary general of the Kenya Association of sugarcane and Allied Product (Kasap) Peter Odima.
"Local market is getting flooded with cheap sugar from Uganda, in fact some are even repackaging using branded bags of one of the local sugar manufacturer," said Odima.
Odima further observed that some traders were sneaking in the contraband goods from Uganda through unmanned points which stretches from Budalang'I to Lwakhakha in Bungoma county.
The General Manager of West Kenya's Olepito sugar factory Gerald Okoth said that the purchase of the sweetener from his factory has gone down owing to cheap sugar from Uganda.
"We have hundreds of bags of sugar we have produced but sales have gone down because some of the traders who used to buy from us are going for the cheap sugar in Uganda," he said.
According to Mr Okoth, should the trend continue, local sugar factories are going to suffer immensely.
"Production of sugar in Kenya is costly but here is a case where someone is taking short cut by importing cheap sugar, package and sell locally," said Okoth.
In his tour of Busia last year, Cabinet Secretary for Interior and Coordination Fred Matiangi said there was need for digital scanners to be installed so that anything that comes into the country is detected.
The Cabinet Secretary for Agriculture Peter Munya last month imposed a ban importation of both brown sugar and raw cane from Uganda, a move that was lauded by local sugarcane farmers.
While issuing the ban, the CS was categorical that cheap sugar was being smuggled into the country through Busia border.
Mr Munya said the ban on sugar imports was aimed at protecting local sugar millers. Meanwhile cane farmers from Busia county have called for disbursement of Kenya Sugar Manufacturers Association (Kesma) until privatization of state owns sugar mills is complete.
The Director of Busia Out-Growers Company Lambart Ogochi said the association was not fighting for the welfare of the cane farmers but sugar millers only.
Ogochi took issues with the move Kesma chair Jayant Patel took by writing a letter to CS Munya and Kakamega governor Wycliffe Oparanya requesting for opening of sugarcane importation.
Mr Patel noted that one of the mills, Busia Sugar Industry was facing an acute shortage of raw materials and therefore it should be allowed to source for cane from Uganda to produce the sugar.
This has not gone down well with Boco director Mr Ogochi. He asked Munya and Oparanya not to allow importation of the cane.
"We shall not allow cane to be imported just like we have said not to sugar importation," said Ogochi.
Want to get latest farming tips and videos?
Join Us