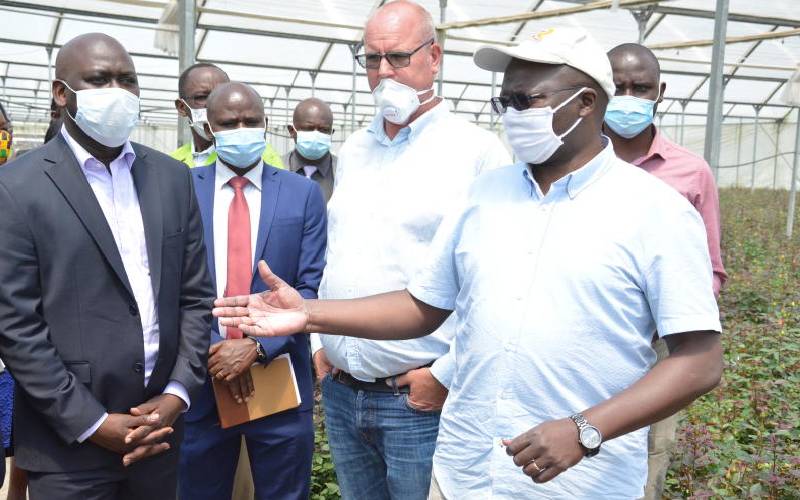 The Kenya Flower Council (KFC) wants an indefinite suspension on salary negotiations for workers in the sector due to the losses made at the height of the Covid-19 pandemic.
The council says the farmers lost over Sh10 billion during the pandemic and could not afford the annual pay increment as stipulated in the labour laws.
Collective Bargaining Agreements (CBAs) for all farms expired on August 1, paving way for fresh salary negotiations between the unions and the employers.
Council CEO Clement Tulezi says the farmers were yet to recover from the losses incurred following the collapse of the EU market. The council had initiated talks with Central Organisation of Trade Unions (Cotu), Ministry of Labour and Agricultural Employers Association (AEA) on the salary negotiations.
"Due to the Covid-19 pandemic, the sector lost over Sh10 billion and it would be impossible for any farmer to engage in salary negotiations at this time," he said.
Tulezi remained optimistic the discussions would bear fruit as markets continue to reopen with exports currently standing at 80 per cent.
"Farmers have incurred major losses due to the pandemic and we are calling for an extension of one year before we embark on fresh negotiations. Currently exports stand at 80 per cent of our produce and we can increase to near 100 per cent if we get more cargo planes and lower freight charges," he said.
But Kenya Plantations and Agricultural Workers Union assistant national secretary Meshack Khisa said the union will in the coming weeks engage the employers on salary review for the workers.
He admitted the farmers had incurred huge losses at the height of the pandemic, but was quick to add they could not ignore the CBA.
"We know the sector has been hit by the pandemic but export of flowers is back as Europe has opened up and it's time we revisit the issue of salary review for our workers," he said.
Speaking earlier, CEO Wesley Siele said they started talks with the State and Cotu to freeze salaries as farms are struggling to pay workers even as the EU market reopens after almost total collapse four months ago.
"At the moment the employers cannot afford to review workers salaries due to the current challenges and we are in talks with unions on how CBA negotiations can be postponed," he said.