Farmers opts for disease resistant potato variety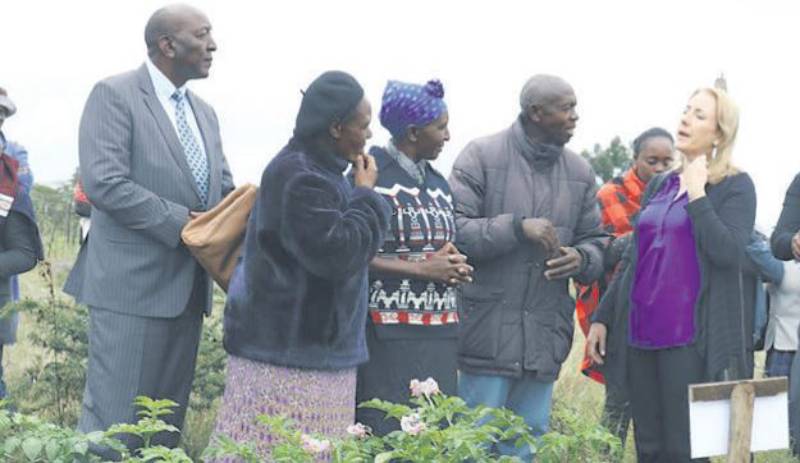 A three-year partnership between the Irish government and Nyandarua County has helped introduce six new potato varieties that officials and farmers say are better than the traditional variety known as Shangi. The move is expected to help meet potato demand as the county prepares to set up a processing factory.
The new varieties, officials said, mature faster, are disease tolerant, and are crispier, which makes them good for processing into chips and potato snacks.
Gathiriga Smart Group chairman Gichuki is one of the beneficiaries of the new initiatives. His group has 30 members. Apart from Shangi, the group is growing Dutch Robijn, Panamera, Unica and Sagitta.
"We started growing in a quarter of an acre, now we have an acre of these new varieties. They are good, resistant to diseases and not affected by harsh weather," he says.
At Kahingo village in Weru ward, Ol Joro Orok, Kahingo Upendo Marketing Group is growing Dutch Robijn, Panamera and Sagitta.
Gladys Wanjiku says the group has been growing Panamera since last year and it is doing very well.
"We thank the Irish government and International Fertilizer Development Cooperation (IFDC), for continued support. Apart from availing certified seeds and other farm inputs, they also facilitate help in training," she says.
The group has rented a one-acre farm where they are multiplying certified seeds with every group member getting some to plant in their farms.
Gichuki and Wanjiku's groups are among the groups which were visited by the Irish Ambassador to Kenya Fionnuala Quinlan during a two-day Potato Capacity Building Farmers Field Days held across Nyandarua County on Monday and Tuesday last week. The envoy expressed satisfaction on the progress made by the project so far.
"It is very innovative and we see the potential of it being scaled up as it proves successful. We have already seen the results and farmers are very happy because the yield is doubling," she said.
Want to get latest farming tips and videos?
Join Us