One farmer's win against low coffee bonuses and brokers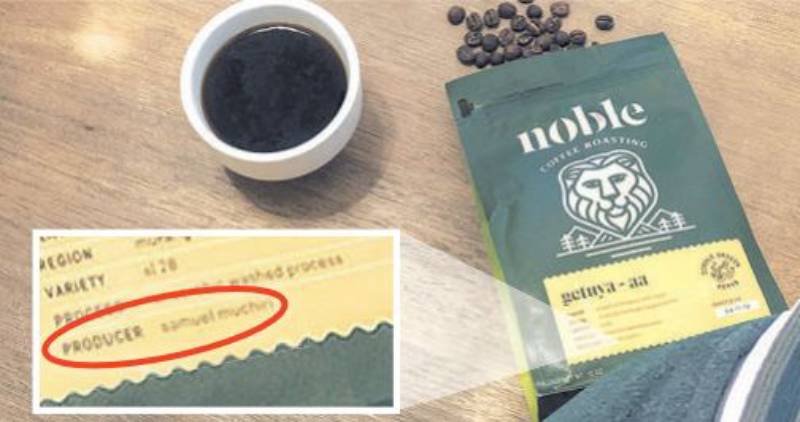 A co­ffee farmer in the Mt. Kenya region is defying the traditions of co­ffee growing, processing and marketing, potentially o­ffering a lucrative alternative that upcoming farmers of the green gold could use to make better and assured income from the crop.
The model adopted by Samuel Muchiri, 44, a farmer in Kirinyaga County, also o­ffers practical lessons on how national and county governments could reorganise the sector to position co­ffee growing, processing and marketing in order to enable farmers to earn better money.
Muchiri's co­ffee is today being sold in America as a high-value beverage, fetching a premium price, thanks to his strategy of investing in organic co­ffee farming. He does home-based semi-processing of the berries, attracting direct buyers, in e­ffect bypassing the destructive brokers at the Nairobi Co­ffee Exchange.
As the saying goes, it is the small things that make a di­fference. When President Uhuru Kenyatta appointed Prof Joseph Kieyah-led co­ffee reforms the committee in March 2016, he left out of the committee the small things, essentially young small-scale co­ffee farmers who, like Muchiri, could have given the committee new ideas.
As it stands now, farmers have protested most of the committee's recommendations and from the look of things, many county governments that were to adopt and implement them have thrown them to the dustbin.
"Coffee has money," says Muchiri. Yet, consider that he is not a big scale farmer, but a micro one.
"I own 600 stems. I have leased an additional 500. So, in total, I farm 1,100 stems," he says. An acre of land would generally accommodate 700 stems at most, which means by farm size, he farms about one and a half acres. Good husbandry has meant that he harvests 10 kilograms of coffee per tree, way above the average of two kilograms by most small-scale farmers.
The average size of a coffee farm in Mt. Kenya is about one acre although because of increasing subdivision of land for inheritance gifts are progressively reducing sizes to about half an acre per family.
So, what ticks for Muchiri, now eyeing to be a regular player in the global coffee market from his small well cared for the coffee farm in Getuya village of Ndia Constituency in Kirinyaga?
The story starts around 2016 when the trained accountant decided to have a side job of selling company shares or stocks as an agent of a brokerage company at the Nairobi Securities Exchange (NSE). This was the time of the stock market boom during the retired President Mwai Kibaki's era.
"My area of focus was in Kirinyaga County. Most of my customers were elderly men. They bought a lot of shares. They would tell me stories of how they had educated their children, some to university level, without doing harambees. I would ask what they did for a living and the answer was almost certain: 'I am a coffee farmer'," says Muchiri.
"I decided not to wait but get into coffee farming immediately. I leased coffee nearby, despite the place is far from home. Within a few years, a got enough money to buy an acre of land near home. I planted it with 600 stems. This was the real start of my coffee journey."
Social media
Within that time, Muchiri says he took some lessons on coffee husbandry at the Ruiru-based Coffee Research Institute. So, after selling shares, he jumped into managing other people's coffee farms, then his own, and today, he is a fulltime coffee farmer.
When his coffee at Getuya started maturing, he would take photos and share them on Facebook. The response was awesome. People shared a lot, encouraging him, as he says.
"Because of the growing interest from friends who liked how my coffee looked, I opened a different Facebook page and called it Getuya Organic Coffee.
"One day, I received a message from an American who simply wrote, 'We want your coffee.'" This, he says, took him back because he did not have any coffee to offer. Reason? To offer coffee to the market, it has to be semi-processed, the process where the outer green/red cover is removed from the seed through a process called wet milling. This is essentially what the coffee societies do. The semi-processed dry coffee goes through another milling process where the dark bean is the final product and which enables the buyers to evaluate the quality.
"I had to think fast. And luckily, I was able to buy a small wet milling machine for Sh27,000. I started the process and thereafter, I was able to offer my beans to the buyers, including the American to evaluate quality."
Another strategy Muchiri used was to opt to grow his coffee organically. "Coffee that is certified to have been grown organically fetches a premium price at the market," he says.
This process involves using minimal chemicals as possible and where possible, making own pesticides using the readily available plants at his farm, some of which he has planted as a live fence.
At his farm in Getuya, you will find containers filled with fermented porridge hanged on every stem. These help in trapping some of the destructive pests that spoil coffee, which opt to seep the porridge concoction that is sweeter than what they can find in the coffee berries. By doing so, he cuts out the use of chemicals which also helps him manage production costs due to avoidance of buying chemicals.
"Some of the chemicals on sale are fakes and counterfeits. The agro vets have no way of knowing what is inside some of the pesticide containers they are selling nor do farmers. So, you spray them, and no effect on coffee and some even spoil coffee, not to mention the wasted money on the same," says Muchiri.
The use of a lot of chemicals also affects the quality of coffee, the taste, and this means that that coffee will fetch a lower price.
He has constructed a modern office at his farm which also hosts drying and storage facilities. He keeps all the records of his farm, with each coffee stem tagged and its history recorded.
On his computer, he shows me a conversation he is having with a buyer from the United States. For the first time, he sold his coffee through a direct market. He sees this as a major breakthrough in his journey with coffee.
When there are so many bad stories told about coffee farming, it is always refreshing to hear only the good stories as told by Muchiri. Today, his success in being able to farm good coffee has attracted many people to hire him to manage their coffee. The good thing too is that this has also attracted the first time, young coffee farmers, therefore, setting the pace for the youth to enter into coffee farming.
He manages coffee on behalf of farmers in Kirinyaga, Nyeri, Kiambu and Trans Nzoia counties.
While there are several farmers who have set up their home-based wet milling factories, most have higher acreage of coffee, about 10 acres and are of the older generation, thus Muchiri represents a paradigm shift not only for farmers with an acre of coffee and less but also for younger coffee farmers who want to earn more money from their crops.
The good news is that Muchiri is now able to earn at least double and sometimes more than triple the amount of money earned by other farmers who sell through cooperative societies.
Want to get latest farming tips and videos?
Join Us