Late rains, expensive fertiliser disrupt planting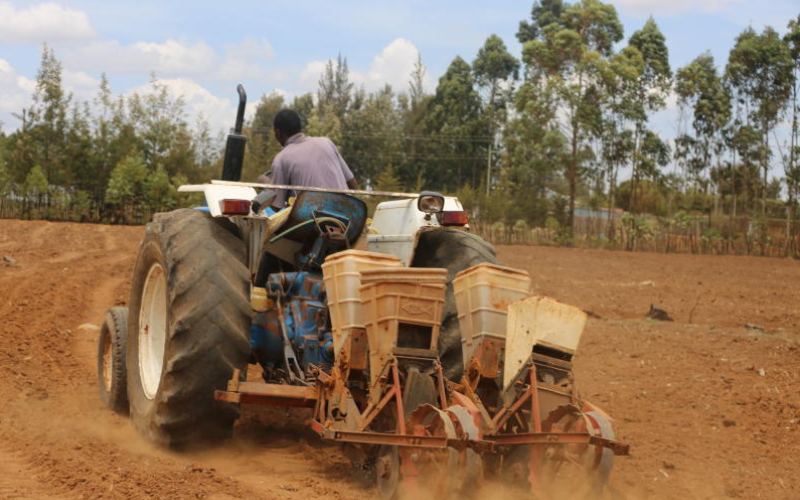 End of April or early May is usually the time for farmers to weed their maize farms in the North Rift, one of the country's bread basket.
Farmers in the region have mastered the rain patterns to ensure optimal use of every drop of the long rains as they sow their seeds.
Interestingly, this time round, due to a delay of the rains, most farms in Uasin Gishu County are still earth-red as farmers continue to plant while others await germination. A small percentage has seen their seeds germinate but are yet to attain weeding stages. If the long rains had come on time and in sufficient amounts, maize producers would by now be planning to either spray or do manual weeding to control weeds and top-dressing.
But due to the delays, they are either planting, waiting for germination, while some are still in queues struggling to access limited subsidised fertiliser.
Climate change, high cost of fertiliser, limited access to subsidised fertiliser and high cost of living have conspired to force farmers into the stage of late planting and reducing acreage under maize production this season.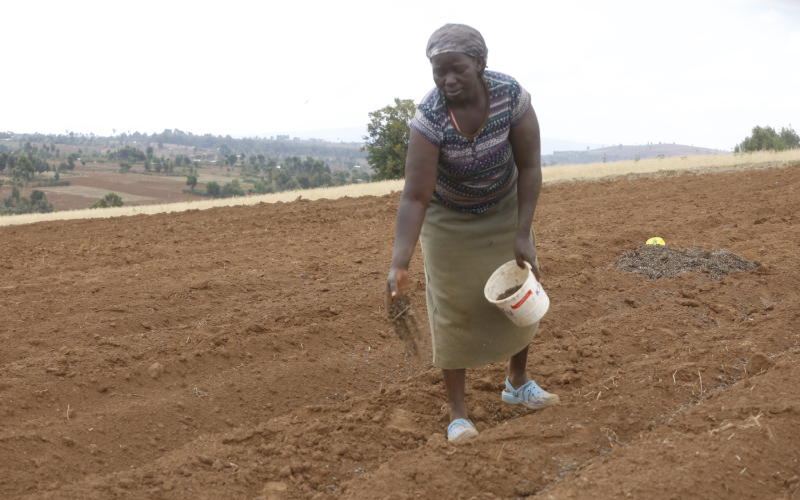 Drop in yields
The Smart Harvest spoke to a number of cereals producers and players in the agriculture sector who have expressed fear of a drop in yields at the end of the current season owing to poor application of fertiliser, reduced maize production acreage and fall army worm attacks.
Some of the farmers interviewed say they did dry planting towards end of March and now the crops are germinating after the rains that started a few weeks ago, while others are planting now.
"About 50 per cent of large scale farmers are yet to plant this season's crop. Because of that, maize yield could drop this season due to challenges including unaffordable fertiliser and unpredictable rains. The delays of rain could lead to either excessive or shortage towards harvest season and post harvest losses," says Thomas Boen, a maize farmer from Tapsagoi in Turbo, Uasin Gishu County.
Boen says he normally plants 53 acres of maize but has only planted 10 this time. He has bought inputs for another 15 acres that he is in the process of planting.
"I normally plant between March 27 and April 5. High cost of fertiliser and delays in rains led to a delay in planting in the current season. I managed to buy 15 bags of fertiliser from traders at Sh6,300 per 50-kg bag and managed five bags of subsidised fertiliser each at Sh3,000," says Boen.
He is yet to plant on 28 acres and this is dependent on availability of inputs.
"If we will not have planted by April 25, then there will be no point. Machanised farming will not work due to heavy rains," he says.
Ruth Kemboi, a Uasin Gishu farmer and the county chair of Kenya National Farmers Federation (Kenff) says the government failed in ensuring early procurement and distribution of subsidised fertiliser to farmers.
"There are a lot of bureaucracies that deny farmers access to subsidised fertiliser. Farmers waste a lot of time queuing for inputs only to be given inadequate rations or none at all. Some farmers have wasted time in queues because they are being taken round in circles. They are first referred to Ward agriculture officials then to the county for confirmation then back to National Cereals and Produce Board (NCPB) only to be given inadequate amounts," says Kemboi.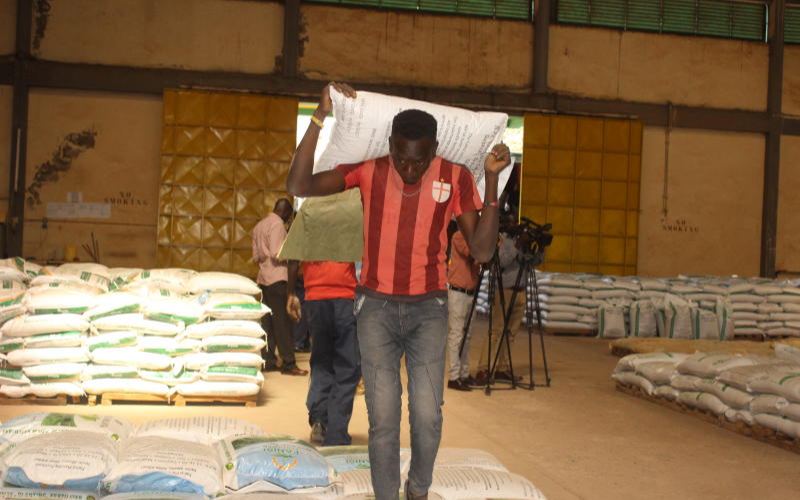 Access to subsidised fertiliser
Ms Kemboi opted to buy 200 bags of fertiliser from traders at Sh6,000 per bag to do early dry planting towards end of March on her 100-acre farm in Moiben.
"If the government is seriously willing to support farmers, then it should procure adequate stocks of subsidised fertiliser on time. Farmers should not waste valuable time in queues only to be given three or five bags that are not sufficient," says Kemboi.
Isaac Kimaiyo, a large scale farmer says he has no option but to scale down on planting maize which he terms as 'unprofitable'. Kimaiyo says some farmers bought the costly fertiliser at more than Sh6,000 per bag because the subsidised one had delayed.
The Sh5.7 billion fertiliser subsidy programme was launched in early April by Agriculture Cabinet Secretary Peter Munya in Kitale and Eldoret but farmers complained that it came too late and it was too little.
"I have been planting 80 acres of maize annually but will do only 10 this year and grow pasture on the rest of the farm. I will not engage in commercial maize planting because of expensive inputs," Kimaiyo says.
Scaled-down
Another mixed farmer Mr Gideon Tanui says most of cereals producers have scaled down in the current season.
"Fertiliser price is the current season are shockingly high compared to last year's Sh3,000 without a subsidy. I would require more than Sh240,000 on fertiliser alone if I were to plant on the 20 acres I own because it requires 40 bags each at Sh6,000," explains Tanui.
Uasin Gishu alone that produces an average of about 4.5 million 90-kg bags of maize annually, has a demand of between 450,000 and 500,000 bags of fertiliser.
"The subsidy programme is too low and cannot effectively meet the needs of farmers. Some farmers got only two bags when they needed 20 bags. Most farmers waste time queuing only to get inadequate quantities and this is depressing," says Mr Samuel Yego, the Uasin Gishu County executive for Agriculture.
Yego says there is need for the national government to do early procurement and ensure access to adequate quantities of fertiliser to guarantee the country's food security.
Mr Yego says North Rift which started receiving heavy rains a week ago, has the potential ro produce adequate food for the current season if there is enough and affordable fertiliser. Meanwhile, the government has attributed high fertiliser costs and shortage to Russia/Ukraine war.
While launching the Sh5.73 billion subsidised fertiliser programme, CS Munya said 2.25 million bags of fertiliser each weighing 50kgs will benefit small scale farmers across the country. But farmers have been complaining that the stocks that are distributed to registered farmers through NCPB stroes come in batches and are inadequate.
"The government's ultimate objective is to enable farmers access affordable inputs and this subsidised programme is to promote productivity," said Munya during the launch.
An official who did not wish to be named said the latest stocks were supplied to NCPB stores in the region few days ago but would benefit minimal number of farmers.
"NCPB stores in Nandi including Mosoriot received 500 bags, Lessos 400, Maraba 400 and Salient 400. Government has promised to continue supplying more," added the official who noted that most farmers benefit from an average of three bags, which is inadequate.
In February, the government also rolled out an E-voucher programme but majority of registered farmers are yet to redeem them.
A source said that the programme has been consolidated with the recent launch where subsidies would now be achieved through NCPB.
Beneficiaries of the E-subsidy initiative were to pay 60 per cent of the inputs, while the national government clears the balance.
Want to get latest farming tips and videos?
Join Us