Want to succeed in dairy project? Then start with record keeping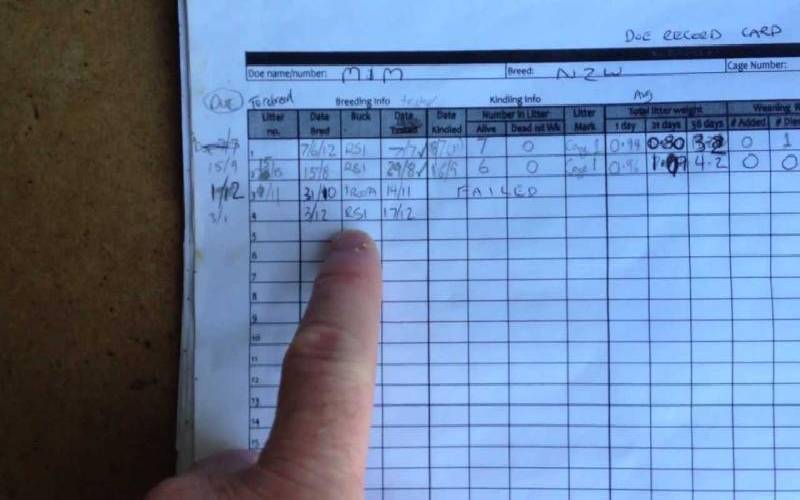 The key to successful farming is keeping well-maintained, accurate records and establishing a sound record-keeping system.
Keeping records refers to collecting relevant information that can help you make good decisions and keep track of activities, production, and important events on your farm. Keep records that are simple, systematic, and complete.
Records are important to help you focus on your business. I mean, you have so much going on in your life, family, a workplace that the minor details of what is happening on your farm might not be captured if you do not record.
Attract potential partners
Records, also help you attract potential partners to the business and in case you want to sell your enterprise. It helps demonstrate to the buyer the exact value and bargain for a better price. Here are the main types of records:
Identification records
It should be cheap, simple, and easy to read from a distance of about two to three metres.
Identification of animals is done through the use of numbers, markings, and by a description of certain characteristics of the animal or taking photos and assigning the animals names.
Identification can be: temporary by use of collars on the neck and legs and paints and dyes or permanent such as by using ear tags, ear-notching, and tattoos.
Breeding records
They measure the productive efficiency of the herd and enable selection. An accurate up-to-date breeding record of each individual female is necessary. The important data in breeding records are names of parents and grandparents (pedigree), fertility (date of service and giving birth), and birth details (number, weight of newborns).
Mugo Wambui, a dog breeder from Rongai says without good breeding records one can end up inbreeding or crossbreeding their dogs and thus producing breeds that are not marketable. Case in point a cross between German Shepherd breed and Rottweiler breed of dogs.
Production records
They are important in measuring the performance of individual animals and the herd. From the records, you can know how many products are available daily or weekly. You can record animal products like eggs, hens, milk per day, animals slaughtered in terms of weight, daily gain, and production period.
Feeding records
It contains information about the amount, type, and quality of the feed. You can use records to show the quantity and quality of fodder produced and available on the farm, feeding plan, leftovers, and spoilage.
Bishop Simon Muhoro, the owner of Jasimo Dairy Farm in Nyandarua county says feeding records enable him take stock and forecast trends of feeding versus milk production.
Disease and treatment records
These records provide information about the health status of each animal.
Keeps track of withdrawal time for milk, eggs, and meat after treatment with dewormers, acaricides, and antibiotics. Consult your Vet and read the label of the drugs to confirm the withdrawal periods. As a responsible farmer, you do not want to sell animal products laden with antimicrobials. The records also capture disease occurrence and date, vaccination, dipping/spraying, treatment, de-worming and postmortem. Samuel Kuria the farm manager of a pig farm in Wangige says by keeping treatment records they are able to know what pests and diseases are common on their farm and find a lasting solution with the help of a Vet.
Financial/economic records
These are kept for income-generating commodities to help to see what the investment is, and what it costs to produce it. It helps you evaluate whether an investment is more than expenditure, and check if it enables and improves the production in the future. They also provide you with information concerning the profitability of your farm, tax purposes and getting loans or credit.
Want to get latest farming tips and videos?
Join Us