GMO maize and cassava seeds now in the market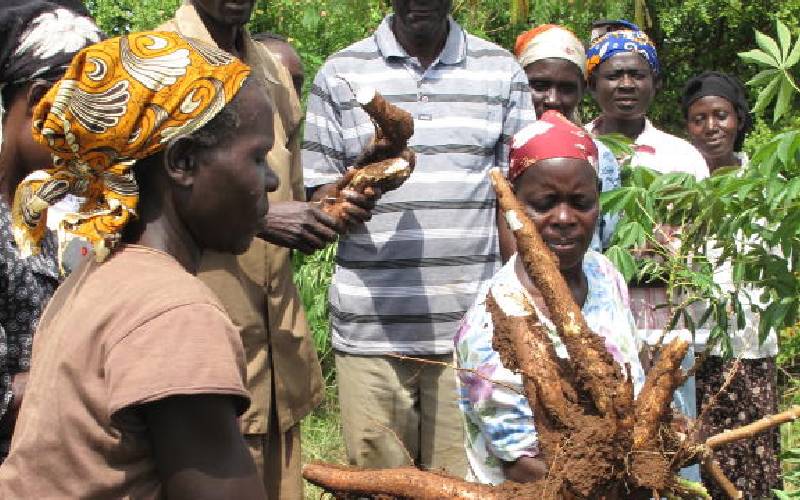 The National Bio-safety Authority has released genetically modified maize and cassava seeds into the market.
The authority's chairman Joseph Chavutia said the approved maize seed variety is resistant to the African Stem Borer and the Fall Army Worm.
Implementation of the Biosafety Act of 2009 has been hampered by government bans on the importation and use of GM foods in Kenya, a decision that did not sit well with experts.
Dr Chavutia, who spoke at the end of the annual National Biosafety Authority conference in Naivasha, Nakuru, on Tuesday, noted that they have made several achievements in addressing food security in the country.
Chavutia said the new maize variety will significantly improve food security and reduce damage caused to the environment caused by massive use of pesticides.
"The approval of genetically modified cassava which is resistant to Cassava Brown Streak Disease (CBSD) will also see farmers benefit from increased cassava root quality," he said.
The genetically modified cotton variety is resistant to the African Bollworm and has increased yields, he said.
"Reliable quality cotton production will increase the utilization of cotton lint, cottonseed oil, and seed cake along the value chain," he said.
The authority's CEO Dorington Ogoyi said they have 37 laboratory and 14 confined field trial GMO projects being undertaken in various research institutions.
Prof Ogoyi noted that there is an increase in demand for food globally and that biotechnology was one of the tools that could enhance agricultural production.
"Farmers are already growing BT cotton which has been modified to be resistant to insects while BT maize and GM cassava are in the final phase of approval and will be available to farmers for cultivation in due time," said Ogoyi.
While opening the conference last week, Education Cabinet Secretary George Magoha commend the biosafety authority for approving the BT Cotton.
He challenged the authority to help address food insecurity in the country.
Magoha also lamented that the debate on GMOs had been overshadowed by fake information.
He wondered why the country was importing maize, potatoes, and rice yet it had the capacity and manpower to produce them locally.
"It's sad that at this age and time, we have to import potatoes from Egypt and rice from Pakistan despite the high potential we have as a country," Prof Magoha said.
He added: "It is time we went out and explained to the public that GMO foods are fit for human consumption despite the myths around them."
Want to get latest farming tips and videos?
Join Us