Tomato growing for new farmers farm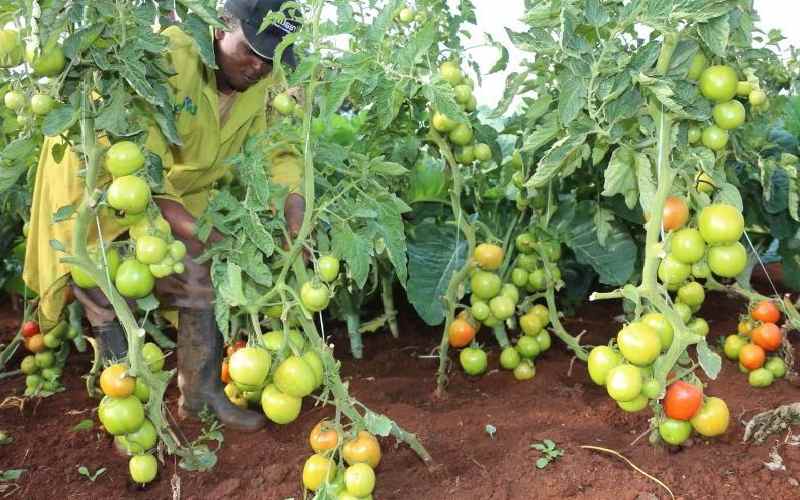 Tomatoes are one of the most consumed vegetables. Almost every meal, is seasoned with tomatoes. So you are guaranteed of demand. To grow tomatoes, you need an area with direct sunlight. This is because tomatoes produce more flowers when planted in sunny spots. The plants require a minimum of six hours of sunshine. However, eight or more hours would produce desirable results.
Tomato plants convert sunlight into energy that is crucial in fruit formation. It, therefore, means that each plant will grow more fruits.
Feed your plants
Increased yields start with proper soil preparation. Tomatoes thrive in soil that is free draining.
Start your plant in a medium with lots of compost which would hold and absorb.
Make the soil loose to allow the plants to spread their roots.
Fertilise your crops for optimal yields. Phosphorus is an essential nutrient for plant root and flower development. Nitrogen and potassium are crucial for healthy growth and vigour. Incorporate the soil with phosphorus sources such as bone meal and rock phosphate. The phosphorus can be incorporated into the planting hole or cultivated into the soil before the plants start producing flowers. Use foliar sprays to supply micronutrients which are essential in fruit development.
Fertilise tomatoes twice. Apply fertiliser soon after planting to promote growth and just after flowering to encourage fruit formation. Using fertiliser will affect fruiting and the overall yield.
Pollinate to increase fruit set
Pollination is a must for flowers to form fruits. As stupid as it may feel, shaking tomato flowers will help in self-pollination. This is because tomatoes are self-pollinating as they have male and female parts.
Create an environment that would encourage pollinating insects. Bees are the most common insects that are important in pollination.
Companion planting is another way of attracting pollinating insects. Planting marigold proximal to the tomato garden is one way of attracting bees. Marigold is planted as a companion crop. Apart from attracting bees, it also keeps at bay insects such as aphids and caterpillars. Continuous use of pesticides can be harmful to pollinating insects.
It is therefore advisable that you select chemicals that are least harmful to these insects. Higher temperature ranges or humidity can also affect the pollen and pollination. High humidity results in sticky pollen, which prevents it from falling. Correct spacing for your tomatoes is essential because it facilitates the flow of air in the tomato field. Restricted airflow around the plants can hinder self-pollination, which is vital for plants to set fruits.
Water correctly
Correct watering is crucial for the successful growing of tomatoes. Underwatering will weaken your crop and reduce yield. Overwatering, will cause rotting of roots. Apply water directly to the soil slowly but deep to encourage the downward growth of roots. Mulching helps in conserving moisture and minimise splashing on the leaves. Avoid overhead application of water as wet leaves are susceptible to fungal infections.
Pruning
Tomato plants generate a lot of vegetative growth from the branches. The excessive vegetation needs to be controlled to allow fruit set. Determinate tomatoes do not require much pruning because they grow to a determined size. Indeterminate tomatoes have limitless growth habits and, therefore, should be controlled. Remove new suckers as soon as they appear to reduce vegetative growth. Their removal will improve fruit production.
Want to get latest farming tips and videos?
Join Us