Zai pits innovation helps farmers outsmart climate change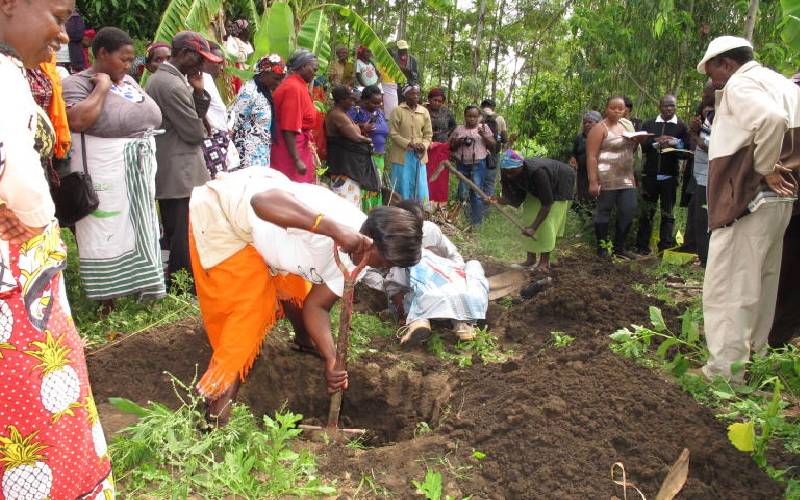 On a recent visit to Wote in Makueni County, I was amazed by an innovation that farmers were using to adapt to climate change - Zai Pits. Instead of growing crops like maize in a large open field, the farmers had dug sizeable pits where they were growing the maize and they were doing pretty well.
Makueni being an arid and semi-arid land (Asal), characterised by low and erratic rainfall patterns, the technology came in handy because farmers cannot bank on rain-fed agriculture for food security.
So what is Zai Pit Technology?
According to various environment websites, Zai is a traditional land rehabilitation technology 'invented' by farmers in Burkina Faso to rehabilitate degraded drylands and restore soil fertility.
Research shows that Zai pits also known as planting pits are water-efficient farming technology used in arid and semi-arid areas to maximise water use by crops.
World Agroforestry Centre describes it as a traditional rainwater harvesting that is popular in several West African countries.
How does it work
According to Drylands Development Programme (DryDev) in order to establish a Zai pit, you need to dig a square pit measuring at least 2ft in length, 2ft in width, and 2ft in depth. The topsoil should then be mixed with farmyard manure before it's returned to the pit. At the onset of the rainy season, the pit captures rainwater runoff hence conserving moisture and at the same time preserving soil fertility.
The benefits?
According to Inades-Formation an organisation that empowers farmers in Africa, Zai pits help in rainwater harvesting. According to the organization, the small pits act as micro catchments that collect water and sediment, the soil placed downhill from each pit enhances their water harvesting function. The added organic material improves the infiltration and retention of water in the soil.
The organisation notes that the pits help to concentrate fertility near the crop root zone, wind or runoff driven debris, including leaf litter from nearby vegetation is caught in the holes.
It has been noted that Zai pits ensure that competition for moisture, manure, and pesticides by weeds are highly reduced. This is because the crop is developed in an "artificial environment" which is controlled and thus weeds and pesticides are disadvantaged.
Surprisingly, researchers have observed that despite its positive attributes, the uptake in asal areas in Kenya is still low.
ICRAF says one of the main reasons given by farmers who are reluctant to adopt the technology was that it is labour-intensive.
Despite all these setbacks, if well implemented, Zai boosts crop yields by more than 100 per cent in Asal areas where food security is a challenge because of low and erratic rainfall patterns.
[Hellen Miseda, [email protected]]
Want to get latest farming tips and videos?
Join Us