Thriving model farm charms Wajir residents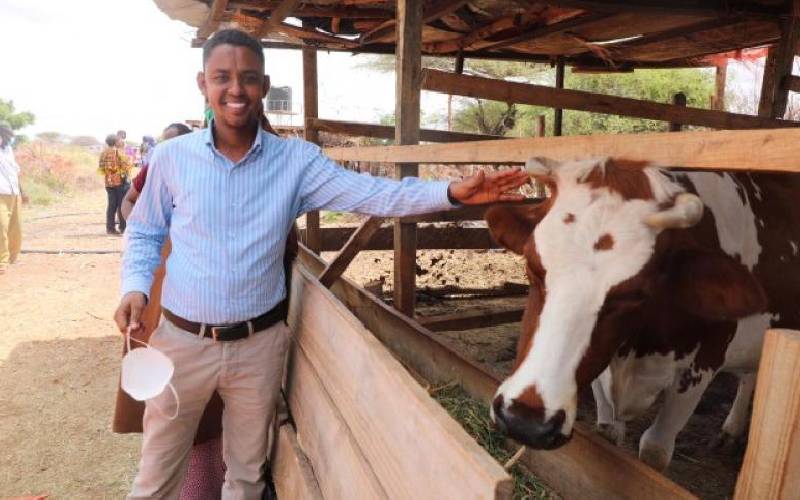 Tell someone that there is a farm with healthy dairy cows, exotic goats and leafy sukuma wiki among other crops in Wajir, the reaction will likely be one of disbelief.
This is because Wajir is among the 23 Arid and Semi Arid (ASAL) counties, based on the relatively low amounts of annual rainfall received.
Often marginalised, and with high rates of poverty, the 16 million people in these areas (30 per cent of Kenya's population) earn their living from pastoralism and small-scale farming.
ASALs are particularly susceptible to droughts and flooding, and with the constant threat of climate change, these areas are considered to be at risk of desertification.
In fact, according to Wajir Governor Ahmed Ali Muktar, the last time the county received adequate rainfall was December 2019.
However, five kilometres away from Wajir town in Danwathag, Wajir West Constituency is Shadenet mixed farm.''
Shadenet is a brainchild of the World Food Programme (WFP) which was established four years ago. It is owned by a group of 14 members who came to Kenya and got support from WFP to put up a shade. The fenced farm has changed perception among the pastoralists committee and also offered jobs to some,'' said Ahmed Alas, he manager.
"It has 11 dairy cows and 26 exotic and local goats breeds, 30 chicken, traditional vegetables, various grass species including Napier and Kikuyu grass. Whatever is produced is consumed by the members and surplus is sold to the residents in Wajir town," said Alas, who also revealed they earn around Sh200,000 per month from the farm.
The drought in the county, he said has affected the supply of milk in town forcing many to rely on the farm.
"We sell one litre of goat milk at Sh150. We are now supporting schools and colleges around and it is also a learning ground for the students," added Alas.
The farm has a borehole and four shallow wells where they get water for use in the farm.
According to Lynette Watiti, Head of WFP's field office in Wajir, they want to create sustainable farming in the county.
"The project started in 2018 by giving these farmers a shade net, which is like a greenhouse. They also gave them shallow wells," she said.
They have similar model farms in Isiolo, Mandera, Marsabit, Turkana, and Samburu counties. Currently, WFP offers technical support to ensure continuity and wants to open up more areas to such kind of framing.
Principal Secretary, State Department of Arid and Semi-Arid Lands Micah Powon said the Government will support such endeavors during a tour.
"We shall sit down with international partners and see how we can support this farm and make it a centre of excellence where others can come and learn from. I am really impressed by the farm and I congratulate World Food Programme for this commendable work," he said during the tour.
Want to get latest farming tips and videos?
Join Us