Mass dog vaccination best bet to eradicate deadly rabies disease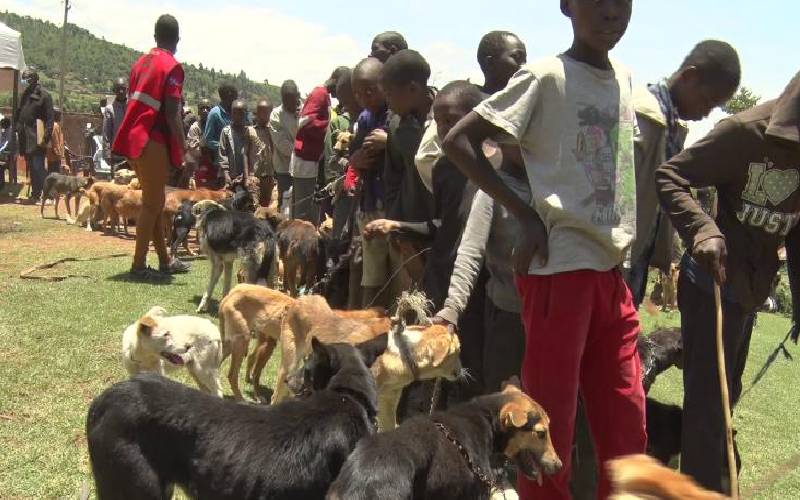 Mass dog vaccination is an effective way of combating rabies; it was noted as the country marked World Rabies Day this week. World Rabies Day is celebrated on September 28 each year as a global commitment to address the rabies menace.
The efforts are geared towards sensitising the global community on the impacts of rabies in humans and animals. It also seeks to lobby global funding towards the achievement of zero rabies cases by 2030.
Speaking in Kilifi County to mark the day, Kenya Veterinary Association (KVA) Chairman Nicholas Muyale said they undertook mass vaccination and spaying pet to encourage responsible dog ownership and control rabies disease.
"To create awareness on the killer disease, we organised a field day to vaccinate dogs and cats, conducted spay and neuter campaigns as well as community education on rabies," said Dr Muyale.
Agriculture Livestock and Blue Economy CAS Lawrence Omuhaka noted that it is sad that Africa and Asia loses one person every ten minutes to rabies. This can be reversed with more awareness on how to control rabies.
About killer disease
To mark the day themed 'Facts not fear' Dr Muyale said they educated the public on how they can be safe in the company of their best friends, pets, and other animals.
Rabies is a viral disease that spreads from one infected animal to another. Not just dogs, other domestic animals such as cats, ferrets, and cattle also carry rabies. Rabies is especially dangerous because it is zoonotic- that is it can spread from animals to humans. It is fatal if timely treatment is not administered.
Rabies remains a global public health threat with the government committed to ending human deaths by 2030. It is estimated that in Kenya about 600 to 2,000 humans die annually due to rabies.
September 28 is the anniversary of the death of Louis Pasteur, the French chemist, and microbiologist who developed the first rabies vaccine.
Strategic plan
The government and other implementing partners have made progress towards the attainment of the Kenyan strategy of eradicating rabies by 2030 and strengthening livelihoods.
Annually, Kenya losses up to 2,000 people to rabies. Dr Muyale says using the One Health Approach, Kenya can control zoonotic diseases, and vaccination is a good way step in this.
Every year, 59,000 people die from dog-mediated rabies globally. Each rabies death is vaccine-preventable.
The national government in partnership with county governments and partners such as World Animal Protection, Kenya Animal Genetics Resources Centre, and Food and Agriculture Organisation of the United Nations have developed the national strategic plan for the elimination of rabies by 2030.
Want to get latest farming tips and videos?
Join Us