Drought-hit counties receive livestock feeds to cope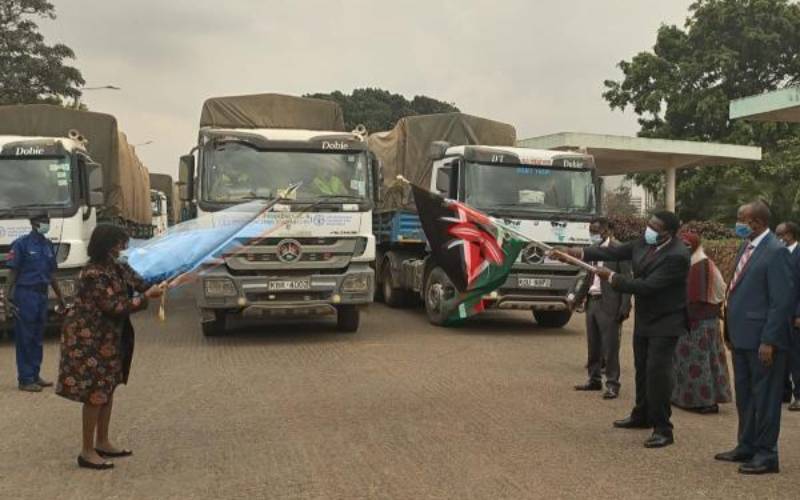 The Food and Agriculture Organisation of the United Nations (FAO) and the Ministry of Devolution and arid and semi-arid lands (Asals) have dispatched 32,000 bags of livestock feed to support pastoral and agro-pastoral communities.
Each bag has 50kg (range cubes) to support communities most affected by drought.
President Uhuru Kenyatta declared drought a national disaster on September 8, this year directing focus on the need to mobilise resources to help desperate households to cope.
State reports show that 10 counties are in the alarm stage and require urgent support and around 2.1 million people are in acute food insecurity and in need of urgent humanitarian assistance.
Projections indicate that the number might increase if immediate action is not taken given that covid-19 has worsened the situation.
Counties like Mandera, Wajir, Garissa and Tana River that are hardest hit, have already received 8,000 of these livestock feeds. Each of the four North Eastern Counties will receive initial 2,000 bags.
Urgent humanitarian assistance
Speaking while flagging off the livestock feed consignment in Nairobi, FAO Kenya Representative Carla Mucavi noted that there is a need for stakeholders to act fast and come to the aid of affected households.
"Livestock is the backbone of pastoralist communities and the main source of their income and livelihoods, therefore our focus is to support the pastoral and agro-pastoral communities and their immediate needs in terms of feed for their animals. Animal health inputs to control internal worms and external parasites and vectors are also key," said Mucavi.
She added: "Towards this, we have included dewormers, insecticides for vector control and multivitamins to boost immunity."
Next month, Kwale, Kilifi, Lamu, and Taita Taveta will each receive 3,000 bags while West Pokot county will receive 4,000 bags of livestock feeds to help them cope with a harsh climate.
She noted that these livestock feeds target productive herds that are left behind when the rest migrate to dry season grazing areas.
When they are well-fed, this will ensure that households continue getting milk for their children and elderly/sick so that these vulnerable groups do not slide into malnutrition and help the households to save on money.
Risk of malnutrition
So critical are such humanitarian efforts given that recently it was noted that hunger in drought-hit counties might hamper Covid-19 vaccination as the immune system of a starving person might not respond to jabs, scientists have warned.
Prof Matilu Mwau, a virologist and deputy director, Kenya Medical Research Institute (Kemri), explained that the starving is also susceptible to diseases as their immune system "may be unable to generate sufficient antibodies and self-medicated immune responses."
According to the Kenya Nutrition Situation Overview, August 2021 by the National Drought Management, 652,960 children, and 96,450 pregnant or lactating women require treatment for acute malnutrition. At least 50,592 of the children are from Turkana County.
Want to get latest farming tips and videos?
Join Us