Fruity schools, Slovak embassy to plant 5,000 seedlings in 100 schools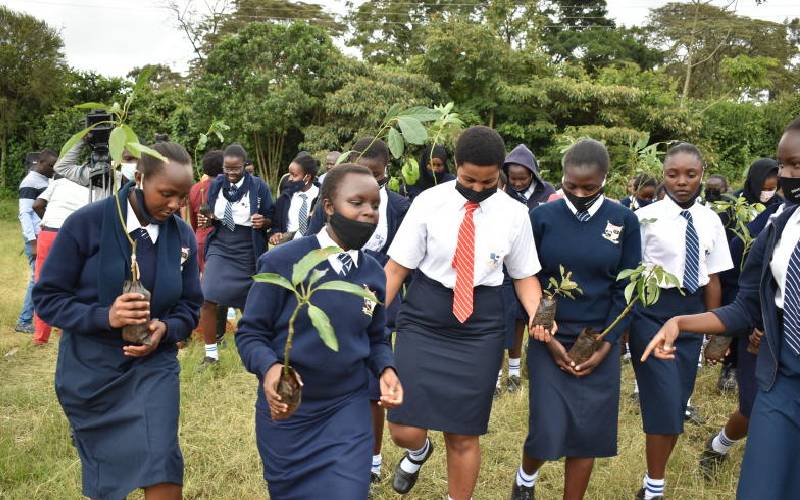 In its bid to help the country achieve its 10 per cent forest cover plan by 2022, Fruity Schools Africa has signed an agreement with the Embassy of Slovak Republic.
The deal will see 5,000 fruit trees planted in 100 public schools within Kiambu County, with each school set to get 50 grafted fruit tree seedlings.
Fruity Schools Africa has so far planted over 20,000 fruit trees and reached out to 360 schools in Nairobi, Machakos and Kajiado counties. The aim is to plant a million by next year.
Fruity schools Africa team leader Kennedy Odoyo said, the partnership with the Slovak Embassy is a good start, as they are keen on reaching out to the European Union if the first phase is successfully implemented.
"We have planted trees in about 360 schools, and with support from the Slovak Embassy, the number is going to rise by 100. From next week, we will embark on planting 5,000 fruit tree seedlings courtesy of Slovak Embassy and Kiambu County Government," said Odoyo.
Every year for the last 10 years, schools have been participating in tree planting days, but the percentage has never been attained. The reason is because as the trees grow, at some point they are cut down for timber and firewood.
Odoyo said the reason they chose fruit trees is because they are hardly, a source of food and in the future, the surplus can be sold.
Expansive lands
Additionally, Odoyo noted that most of the public schools have big lands which can be converted to small forests and orchards. According to Odoyo, this will also help the government to protect school land from being grabbed, adding that fruits add the value of the land.
Slovak Ambassador to Kenya Katarina Zuffa Leligdonova, said it is time to reflect on the effects of climate change and challenges such as food insecurity and look for ways to reduce and alleviate them.
"We hope that this will help enhance your activities in conservation of environment, food security and education for the children," said Leligdonova.
She added:"We certainly would like to be part of the project for many reasons and reflect on the challenges which are globally consistent around us, particularly pertaining to the environment."
The fruit trees project is expected to take place countrywide where all the 35,000 public primary and secondary schools will benefit from the project. Fruity Schools Africa hopes to plant a million trees annually. The Standard Group Plc is also a partner in the tree planting project.
Want to get latest farming tips and videos?
Join Us