Tips for handling maize stovers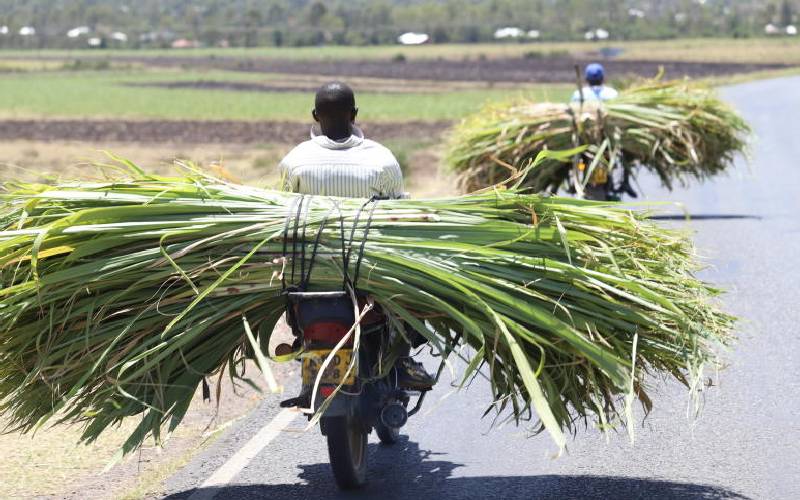 Dear Daktari
I am a dairy farmer and we are now harvesting maize. One day, as we were harvesting one of my dairy animals broke loose and accidentally entered the maize farm. We realised this late since all of us, including my herdsboy, were busy with the harvesting. The animal suffered an enlarged stomach and diarrhoea the following day. We called in a vet who treated it and said most likely it had eaten a lot of grains. That was last year during harvesting, I know now most farmers are harvesting and this problem can recur. Kindly advise us on this and other health issues of importance during harvest time.
[Silvano Makokha, Lugari, Kakamega County]
Thank you, Makokha for your question. Yes, harvest time is a season of plenty and farmers are busy with crop agriculture forgetting livestock agriculture and this has consequences. Here are useful tips during harvest time:
Make good use of maize stovers
It is a time not only to harvest the corn but also to store animal feeds. Maize stovers are available in plenty and are often misused by farmers. While maize stovers can be harvested and stored for proper use as animal feeds, most farmers leave this feed in the field to be eaten by the animals, to rot or burn it.
The leaves are the most nutritious component of maize stovers and every effort should be made to prevent their loss during conservation. It is common for farmers to conserve maize stovers by heaping them together in the field or on the farm.
This protects the maize stovers from the adverse effects of sun and rain and effectively conserves them. However, the farmer should regularly check for rotting and growth of moulds, especially when they are left in the field. A good storage structure can be constructed to shelter them from the sun and rain.
The greatest challenge with maize stovers is their bulkiness. When cut into smaller pieces it is relatively easy to store them, they will occupy less space and reduces incidences of attack from pests. However, the farmer must regularly check to ensure that they are at the right temperature and no moulds are growing inside. Grinding also improves palatability. Maize stovers can be mixed with fresh forage and molasses to increase their intake.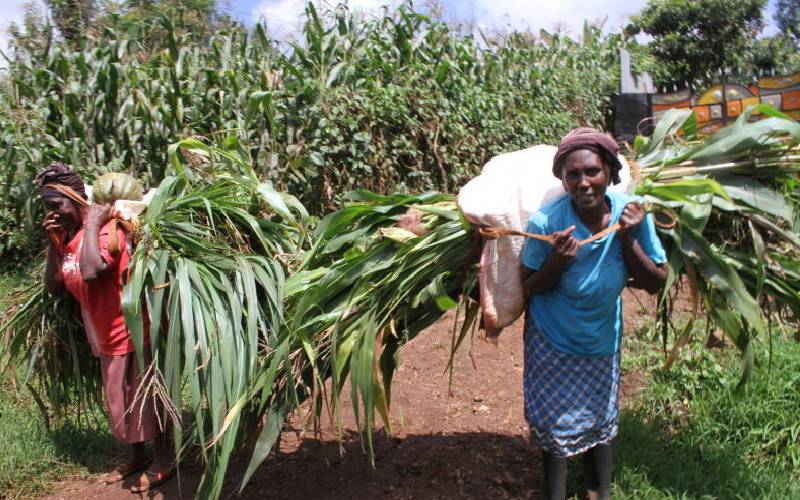 Be aware of grain overload
Allowing animals to graze directly on maize stovers in the fields reduces the utility levels of these feeds and comes with some health issues. The maize stalk remnants can also injure the soft skin areas and predispose to foot infections, like foot rot.
For some reason, animals tend to prefer chewing the cob with grains to the maize stovers whenever they come across them.
When this happens, the animals are suddenly exposed to a lot of carbohydrates which their digestive system cannot handle and the result is normally metabolic acidosis.
The signs of trouble are an enlarged abdomen and farmers always assume the animal is full. If ignored, it will quickly progress to metabolic acidosis and clinical signs like abdominal pain and diarrhoea. In severe cases the animal will become recumbent, some will stagger and will completely lose appetite.
Rumen contents will feel firm. If you observe this clinical sign, urgently call your vet. If not addressed, an animal can die within 24 to72 hours. Some animals will appear to improve only for the condition to recur as a result of secondary bacterial infections in the rumen and may die two to three days later.
What to do when the animal has grain overload?
When grain overload is severe the animal should be slaughtered as death is likely to occur. Normally the vet will try to remove the rumen content and replace it with that from a healthy animal. This can be found in the slaughterhouses. This requires that the rumen be opened up (rumenotomy) and is successful when the animal is standing and not recumbent position; further underscoring the advantages of calling in the veterinary doctor early.
Want to get latest farming tips and videos?
Join Us