KALRO produces potato varieties with longer shelf life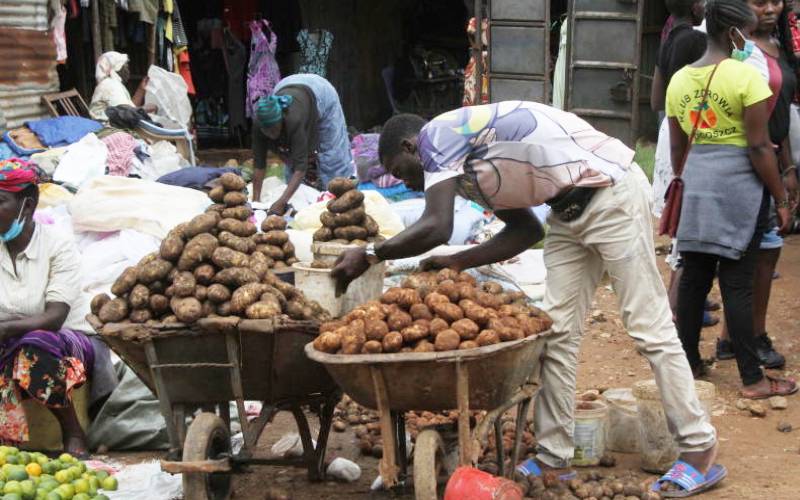 The Ministry of Agriculture through Kenya Agricultural and Livestock Research Organisation (Kalro) has produced potato varieties with a longer shelf life.
The new variety will enable potatoes farmers to store their produce for longer and sell them when the prices are appropriate. The potatoes can last up to five weeks while in the pantry and four months if stored in a cooling plant.
Speaking to farmers at Kalro Njoro in Nakuru County last week during a field day organised by the Agriculture and Food Authority (AFA) and the National Cereals and Produce Board (NCPB), Agriculture Cabinet Secretary Peter Munya said this will also help address issue of abuse by middle men.
"...this move will curb exploitation of farmers by middle men who buy the produce at throw-away prices," said Munya.
Munya revealed that plant researchers at Kalro are concluding the final tests on the new varieties of Irish potatoes that will last long after harvesting. The varieties are resistant to diseases and pests and mature faster.
He revealed that the varieties under trials will be unveiled in April next year and the State department for Agriculture in collaboration with local Governments of potato growing counties will distribute the flagship seeds of the varieties to farmers to enhance productivity and profit.
Among the 38 varieties of Irish potatoes developed by Kalro between 1953 and 2017, the Shangi variety is popular with smallholder farmers but growers have lodged complaints about its short shelf life. Farmers had asked for a variety that they can store for longer periods as they await better prices at the market.
Shangi was released in 2015. It takes three to four months to mature. The variety matures early, it is highly prolific, cooks faster.
Munya encouraged farmers to adopt the new seeds of the new varieties once dissemination begins to improve their yields, earn profit and improve their livelihoods.
Training opportunities
The farmers present had the opportunity to learn more on: crops value addition to reduce food wastage, production of raw materials for livestock feeds, feed formulation, production of high value traditional crops, clean seed selection, soil sampling and testing and plant health. The trainings were free of charge.
Farmers were urged to embrace modern farming technologies to increase productivity and incomes.
Munya added that the government in collaboration with partners is accelerating the construction of a grain storage warehouse and an Irish Potato cooling plant in Nakuru County to cushion farmers against post-harvest loss and underpricing during an overabundance.
The Sh110 million Irish Potato cooling plant will be constructed in Kuresoi North and the grain storage warehouse in Njoro, both in Nakuru County.
Under the government's warehouse receipt arrangement, small holder farmers will be able to use their farm produce as collateral on low interest loans from local banks and for subsidised farm inputs and implements.
"The facilities will be duly certified to issue receipts to farmers who will use them to secure the loans," said Munya.
Want to get latest farming tips and videos?
Join Us