Macadamia farmers count losses as prices drop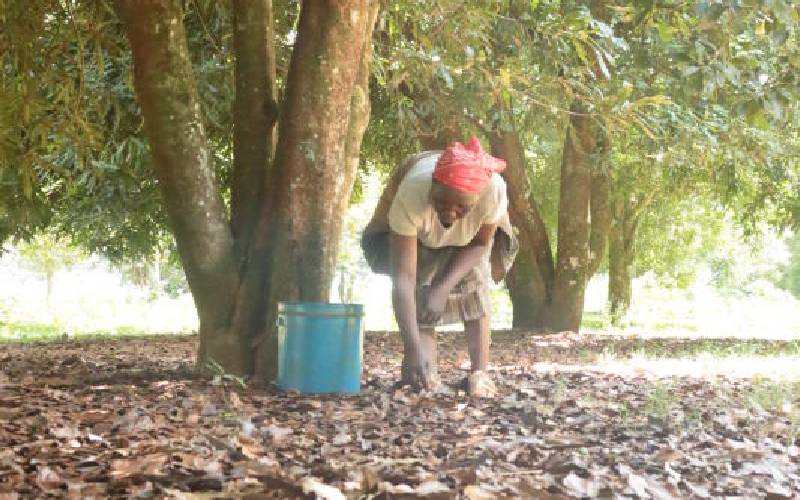 Macadamia farmers are counting losses after the crop prices dropped to all-time lows due to two major challenges facing the market.
This has been attributed to countrywide lockdowns across Europe, America and Asia implemented to control the Covid-19 pandemic.
In 2019, farmers in Nyeri, Meru and Embu sold 1kg of macadamia at Sh200, but now the price has plummeted to as low as Sh30 per kilo.
Peter Wambugu, a farmer in Kangaita, Tetu constituency, has been a macadamia farmer for 20 years.
"I retired from my civil servant job in 2000 and started macadamia farming in 2004 todate," he said.
Business was so good for Wambugu that he became an out-grower, contracting other farmers to grow the nuts.
Wambugu has 280 trees on his farm with at least 50 farmers who grow the crop and supply it to him for sale.
Often he would harvest to four tonnes per season, which would translate to Sh800,000.
"I have faced minor challenges along the way but I overcame them easily because the demand and prices for macadamia nuts were constantly rising," he said.
Losing Hope
However, since March 2020 Wambugu has been counting losses and slowly losing hope in this once-lucrative venture.
"When the country announced a lockdown during our harvest season last year I was not very worried because I expected it would only last a few months and macadamia would still sell," he said.
What he did not anticipate was that the traditional export markets which were the main source of demand for macadamia were already shutting down their economies.
"In western countries, macadamia nuts are a snack sold in bars and restaurants. They are also sold on airplanes, and hotels," Wambugu explained.
Unfortunately, these are businesses adversely affected by the shutdown and Covid-19 pandemic guidelines.
"It has been a tough year for us because this was our main source of income and now we are stuck with the crop and no buyers," he said.
In Gikondi village, Mukurweinin constituency, Peter Ngige has given up on the crop and focused his effort on potato farming.
"I spend most of my days in Kieni constituency tending to my potato farm. I gave up on macadamia last year due to low prices," he noted.
This is in sharp contrast to when middlemen used to haggle for the nuts outside his gate and he would make a tidy profit from the crop.
"Each tree produced at least 30kg each time I harvest, and this means out of my 60 trees, I can harvest 1,800kg and pocket Sh360,000 each time," Ngige noted.
Ngige has now left his macadamia trees unattended after the prices dropped to Sh19 per kilo.
Jungle Nuts chief executive Patrick Wainaina said the processors had gone slow on their buying after they were unable to sell off their stocks last year.
"We have had a challenge selling off tonnes of macadamia in our traditional markets because of the coronavirus pandemic," Wainaina noted.
He explained that macadamia is a luxury item, so sales are good when people have disposable income and more so during holidays.
"Most of our products are sold off during the holiday seasons because people are travelling and they have extra money for nuts, unfortunately, traditional holidays were very low in 2020 with most people in lockdown," Wainaina said.
He explained that while the processors were able to sell off macadamia as ingredients for manufacturers of confectionery and cakes, the whole nuts were not selling at all.
"The manufacturers of sweets and chocolate are buying the macadamias as ingredients but they are only a small segment of the market therefore we are counting losses hoping that the situation will improve," he said.
Want to get latest farming tips and videos?
Join Us