Vihiga's new plan to boost vegetable production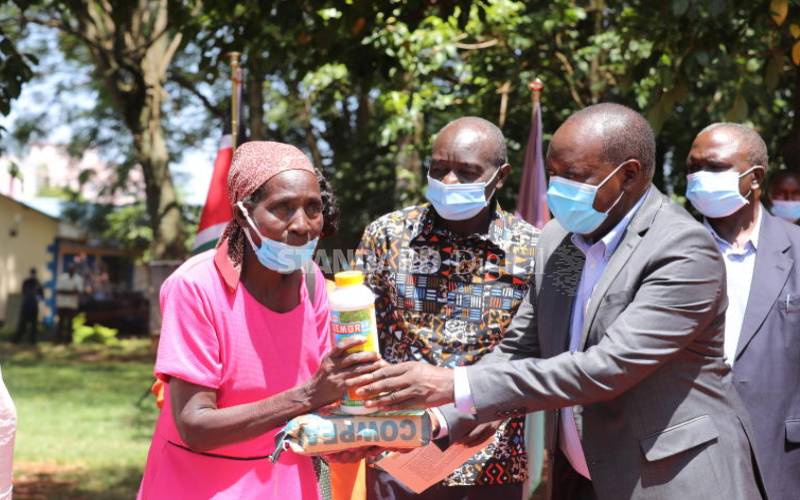 In a bid to scale up the production of African Leafy Vegetables (ALVs), Vihiga county government distributed seeds, organic fertiliser, pesticides and fungicides to farmers worth Sh6 million.
Speaking during the issuance of the inputs at the county headquarters, Vihiga Governor Wilber Ottichilo reiterated his administration's commitment towards making Vihiga a food secure county -through improved agricultural practice.
The governor urged farmers to form Savings and Cooperative Societies (Saccos) in order to pool their resources and have a better bargain at the market place.
Dr Ottichilo said despite Vihiga County sitting on a constrained land area compounded by a dense population, horticultural production remains the most viable option in agricultural production.
"Although Vihiga is disadvantaged by small land acreage, we can still get it right by diversifying to horticulture", said the Governor.
To cushion farmers from post-harvest losses, the county government through the Department of Culture and Social Services will construct a cold room for preservation of African Leafy Vegetables at Walodeya in Chavakali Ward. The governor said this will help in storage of farm produce as farmers seek for better prices on the market.
Nutritive value
The drive to have farmers embrace African Leafy Vegetables farming is informed by the fact that the produce is affordable and nutritious compared to exotic vegetables.
According to nutritionists, sukuma wiki, an exotic vegetable that was brought to Kenya as cattle feed, has little nutritive value.
"Mrenda is 20 times more nutritious than cabbages while and five times more than sukuma wiki," said Prof Mary Abukutsa in a previous interview.
Despite the many benefits that traditional vegetables carry, sadly some people are stuck with their good old sukuma wiki.
Chief Officer for Agriculture Pamela Mahila challenged farmers to put their best foot forward in scaling up agricultural production.
Since 2018, Vihiga County has realised remarkable strides in the agricultural sector. Over 120,000 households in the county that are dependent on agriculture have benefited from subsidised farm inputs from the county administration.
Want to get latest farming tips and videos?
Join Us