Deadly viral disease that is brought to the farm by new animals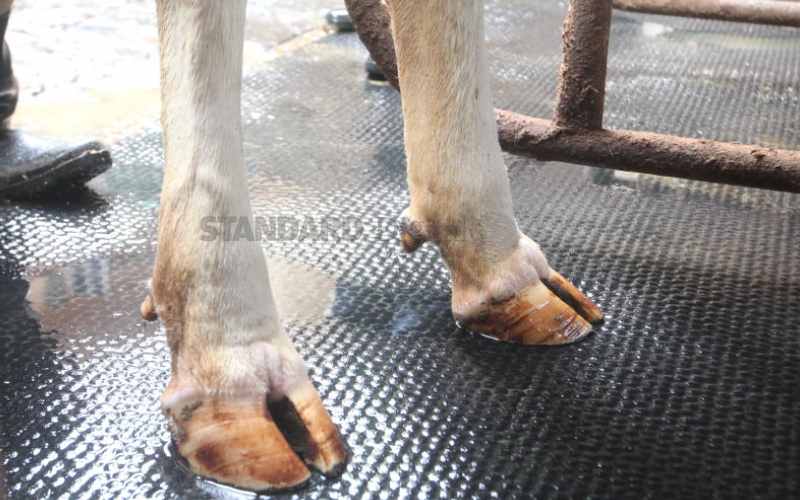 My farm has suffered two episodes of Foot and Mouth Disease (FMD). The initial attack was blamed on lack of vaccination. I had not vaccinated and from that time about three years ago I took vaccinations seriously until late last year when I suffered another attack. The attack hit after I brought in a new calf. The seller told me he had vaccinated it against FMD and other diseases. When it happened, I quickly isolated the animal and called in a vet who treated it. Kindly educate me on this disease. [George Njoroge, Kiambu]
Thank you Njoroge for reaching out to us. Indeed, FMD is an economically important disease because it leads to great losses when it strikes.
What is Foot and Mouth Disease?
The disease is fatal in calves and in adult animals while it may not kill, it results in lesions that are painful and recovered animals rarely attain optimal productivity.
FMD affects cattle, pigs, sheep and goats. Globally, there are seven strains of the virus that causes the disease. This is important when vaccinating to ensure you use a vaccine that covers the specific strains.
The Kenya Veterinary Vaccines and Production Institute (KEVEVAPI) has a vaccine that is a combination of the four strains found in Kenya. Initially, this was a main reason for vaccination failures because of admission of a vaccine with the wrong strain.
They include fever and painful blisters in the mouth, lips and between the hooves. These clinical signs give the disease the name.
The viruses that spread the disease are readily available in saliva and contents of the blisters. These are easily shed and can contaminate feeds, beddings and farms.
If an FMD disease outbreak situation is noted in a herd, quarantine is imposed and the main principle behind this is to prevent spread of the virus via animals, machinery and people.
Prevention and control
FMD is effectively and affordably controlled through vaccination. KEVEVAPI has an oil-based FMD vaccine that should be administered annually by a veterinary doctor. It is given to animals that are more than three months old.
It is possible the farmer who sold Njoroge the calf might not have vaccinated the animal. All vaccines require strict professional handling and certain temperature to be maintained.
For example, the FMD vaccine requires to be stored at 2-8 degrees centigrade (refrigerated) any thing outside this can render the vaccine ineffective. The vaccine is available in 15, 30 and 80 doses vail from KEVEVAPI. Other preventive measures include strict human and livestock traffic control in and out of the farm.
[The writer was the Vet of the Year Award winner and works in the Division of Communication and Vet Advisory Services within the Directorate of Veterinary Services; [email protected]]
Want to get latest farming tips and videos?
Join Us