Munya warns societies over Sh3b cherry fund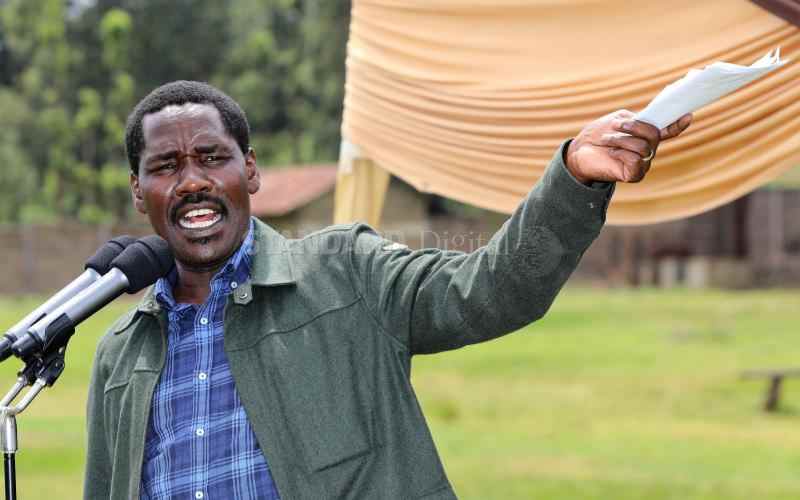 Agriculture Cabinet Secretary Peter Munya has threatened to de register co-operative societies and dissolve management committees hindering farmers from borrowing the Sh3 billion cherry advance fund.
Speaking during public participation on Coffee Bill 2020, in Karatina, Nyeri County, yesterday, Mr Munya said some societies were working in cohorts with millers and marketers to ensure farmers do not access the fund being disbursed through New Kenya Planters' Co-operative Union (KPCU).
The money is being advanced to farmers at between 20 and 40 per cent of their total harvest and is paid upon delivery of the produce at an interest rate of 3 per cent.
"I am putting societies on notice that I will dissolve them should they continue standing on the way and preventing farmers from accessing the fund," Munya said.
The CS explained that President Uhuru Kenyatta set up cherry and commodity fund to address challenges facing the coffee sector.
Munya regretted that the money was lying idle at Cooperative Bank while farmers are still struggling to access credit from commercial bank and millers.
He further asked Directorate of Criminal Investigation to investigate how a sacco advanced Sh160 million to Rumukia Farmers' Society without security.
Munya said officials who secured the loan using the society property should be prosecuted. "You will be arrested and prosecuted and that bank should consider the loan as a bad debt," he said.
New KPCU chairman Henry Kinyua noted that more than Sh10 million had been given to farmers.
To access the funds, farmers are required to be members of cooperatives or deliver their cherry or parchment for milling and marketing by KPCU.
At the same time Munya said the Coffee Bill 2020 had been taken to the Attorney General and would soon be gazetted before being taken to the National Assembly Committee.
"Since the sector is liberalised we have capped all loan advanced to farmers at 5 per cent in the Bill. Some societies have taking farmers to institutions lending at an interest rate of between 13 and 17 percent," the CS explained.
Proposals in the Bill include stopping the use of coffee factory property as collateral to secure loans, ensuring millers are not marketers, curtailing millers or marketing loaning farmers, giving a widow of performing factories to form their own society.
Want to get latest farming tips and videos?
Join Us