Nyamira Governor John Ngarama was an astute farmer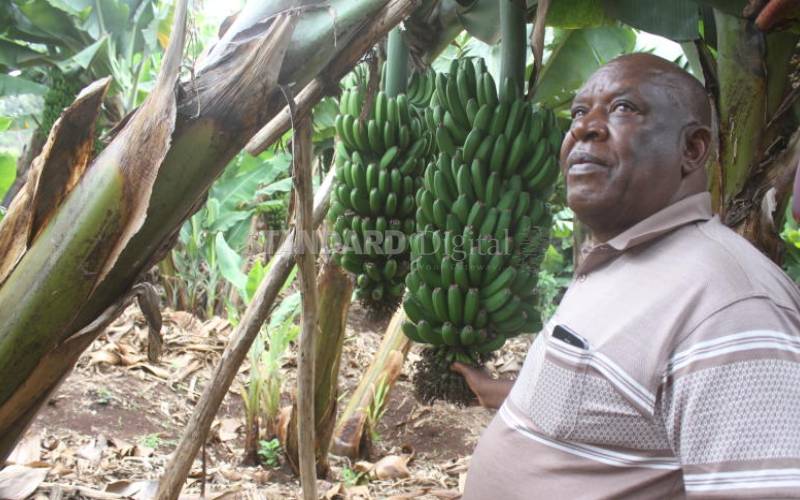 When Nyamira Governor John Nyagarama was not running the county, he turned his attention on his various farms in the county.
Nyagarama ran one of the best organic farms in the area, reaping from the small portions of land characteristic of the Gusii region where the resource is getting smaller by the day.
Nyagarama, 74, died early Friday at Nairobi Hospital where he had been admitted for two weeks. His family has confirmed.
County Secretary James Ntabo on Friday said the family is preparing to move the body to Lee Funeral Home.
He operated a three-acre plot at Tente near the headquarters of Nyamira Seventh Day Adventist Church.
There he operated a completely organic farm where he did not apply any artificial fertiliser during or after planting.
During his first days in office, the governor established an Artificial Insemination (AI) department, from where farmers received services at half price.
Initially, AI cost between Sh1,500 and Sh3,000, but currently farmers pay the county government Sh500 for servicing one cow.
The governor also had a banana farm from where individual farmers and groups buy suckers. Now in his fourth-year of banana farming, Nyagarama sold over 100,000 banana suckers to various farmers' groups.
In 2017 during an interview at the farm, Nyagarama explained how he had worked on tissue-culture banana varieties that are resistant to diseases and mature fast.
"At the time I was planting, we gave farmers several suckers. We have a great potential for banana production. All farmers need to do is pace up with the new tissue culture technology to rake in profits," he said.
Want to get latest farming tips and videos?
Join Us