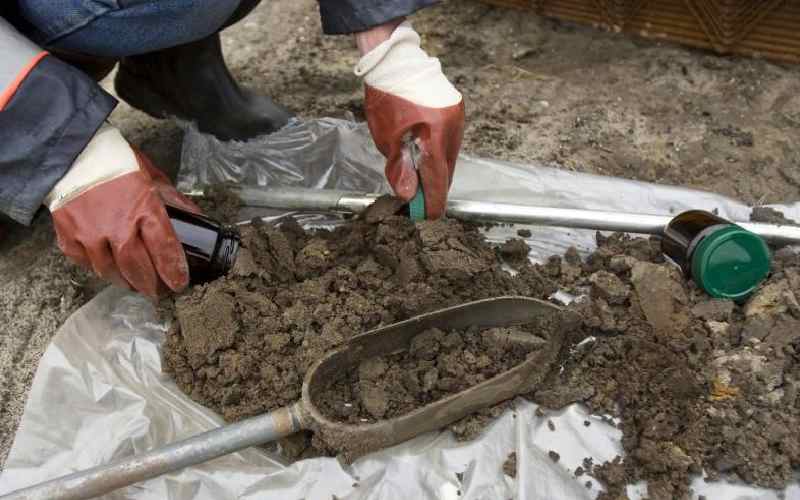 As the world marks the World Soil Day today, Kenya will be banking on a new policy to tame runaway soil degradation.
The National Agricultural Soil Management Policy (NASMP), formulated by the Ministry of Agriculture, Livestock, Fisheries and Cooperatives will address key challenges that lead to low crop production.
The current policy that takes cognizant of the devolved nature of key agricultural and environmental functions will also guide the planning and implementation of soil management programmes in Kenya.
Agriculture Cabinet Secretary Peter Munya said proper management of agricultural soils will transform the country's agriculture into a "modern, innovative and commercially-oriented sector."
"The policy proposes a wide range of measures and actions responding to key agricultural soil issues and challenges. It provides a framework for an integrated approach to sustainable management of agricultural soils," said Munya.
Soil is the key factor in agricultural production and the largest reservoir of terrestrial carbon, vital to mitigation of the effects of climate change.
Soil is everything
According to the United Nations, soil hosts 25 per cent of the planet's biodiversity. Still, experts know little of the microorganisms found in soil compared to those in plant species.
"Up to 90 per cent of living organisms live or spend part of their lifecycle in soils. It is estimated that only one per cent of soil microorganism species are known compared to 80 per cent of plant species," says the UN.
A key catalyst to the poor state of soil, states the policy, is the country's ballooning population that has led people to mono-cropping and livestock keeping on fragile ecosystems such as wetlands, steep slopes and riparian areas where soil stability is already compromised.
Such poor farming practices result in heavy soil compaction, loss of biodiversity and fertility, nutrient leaching and erosion. Long-term effects of such land degradation include landslides, desertification and invasion of intrusive species.
According to the national soil fertility survey done in 2014, 50 per cent of all sampled soils in the country had poor levels of soil pH and other vital minerals such as organic carbon, nitrogen, phosphorus, potassium, zinc and copper.
The loss of such vital soil nutrients continues to affect the country's food security.
According to the report, the once fertile soils yielded between four to six tonnes of maize per hectare but can hardly yield a tonne today. This means Kenya's soils can only produce 25 per cent of their expected capacity.
The economic repercussions of the poor crop output have been heavy with the country losing more than Sh40 billion to land degradation annually.
Kenya has had a history of near misses as far as soil conservation is concerned. The new policy traces this history starting with the soil and water conservation of the 1930s, introduced due to "serious erosion problems in both the settlers and the African farms."
This policy enforced contour farming, tree planting, terrace strip cropping and de-stocking among other measures.
During and shortly after independence, the drive to conserve the soil took a backward step over what was termed as "coerced soil conservation."
"Soil conservation had become both politically and socially untenable," states NASMP.
Over the years, however, different government entities have formulated policy after policy to deal with soil and water management. Prof Hamadi Boga, the principal secretary in the State Department for Crop Development and Agricultural research said in the policy that Kenya has scattered provisions for soil management but "lacks a comprehensive policy on sustainable soil management to address the challenges."
Among the more elaborate initiatives to curb soil degradation was the 2006 National Soil Fertility Draft Policy Paper, crafted following recommendations of the 2001 Soil Fertility Initiative task force.
But overlapping roles, weak coordination and poor implementation of such policies has hampered proper soil management. For example, the near collapse of the once vibrant agricultural extension services means small-scale farmers who form the bulk of Kenya's farming community cannot get access to useful information.
"An effective agricultural extension service that provides stakeholders with relevant knowledge and information can improve agricultural productivity," states NASMP.
Only time will tell whether the provisions of the new policy will be fully implemented to curb soil degradation.