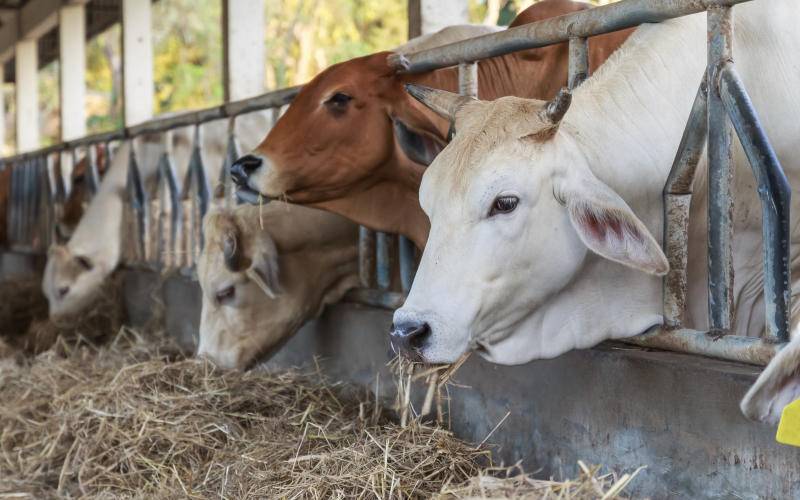 I have received numerous questions from readers on feedlots business.
Feedlots are premised on the idea of feeding high-energy diet to attain a desired market weight within a given time. Feedlots require great capital investments and therefore can also mean lots of losses when not well planned and managed. The time taken to gain this weight depends on the feeding model adopted, the breed and the starting body weight.
So, what factors should one consider to run a successful feedlot venture?
Accessibility
Think accessibility when choosing a site for your feedlot. So why is accessibility a big deal?
The daily operations of the feedlot require transport of staff, feeds and animals. Poor selection of a site may present environmental pollution challenges and subsequently government may not issue the farmer with a business permit. When designing a feedlot consider having roads within the feedlot for ease of movement.
The breeds
When selecting the starter stock bear in mind that it is quality and quantity of beef that matters at the end of the day. The breed determines quality of beef produced.
There are several breeds well adapted to the Kenyan environment. They include the Boran, Simental, Sahiwal and Zebu.
Also take note that the quality and quantity of beef is determined by the genetics and the type of feed given to the animal. Some of the areas to assess during the feeding stage is muscle scoring.
Muscle scoring is the assessment of thickness and shape of the muscles in relation to frame size of the animal. It evaluates the degree of muscularity without the influence of fatness. Some customers have certain preferences and this should be considered to meet the market tastes.
Costs
Given that feeding contributes greatly to the production costs, it should be factored into the planning.
It takes a while before you start reaping from feedlot after your first sale. The heavier burden during the grace period comes from costs like feeds, veterinary, maintenance and staff allowances.
Water is an important component in a feedlot. It should be available throughout. To miminise costs chose a site with a reliable water source like a borehole or a river.
A well selected site
A well selected site that is accessible greatly reduces operational costs, increases livestock production and hence profits.
Diseases are a major constraint to successful feedlots. Fortunately, feedlots ensure herds are separated or quarantined hence reducing spread of diseases from other herds. If you are sourcing animals from other areas into the farm, note that this may increase chances of disease spread. It is important that diseases are prevented before they emerge or managed well if they hit the herd.
To be on the safe side with disease management, at the onset of the project enrol services of a veterinary surgeon to be available when animals are coming into the feedlot and throughout their stay.
Other factors to consider are the safety of the farm, perimeter fencing, gates, lighting, signage and security cameras.
[The writer was the Vet of the Year Award winner and works in the Division of Communication and Vet Advisory Services within the Directorate of Veterinary Services; [email protected]]