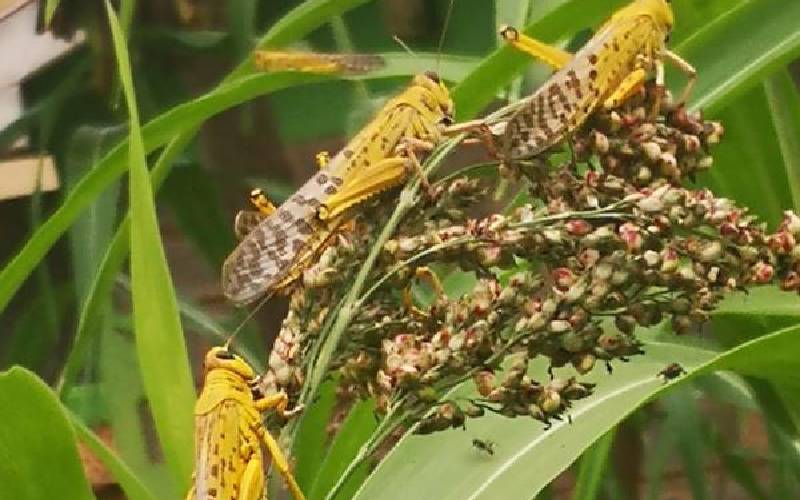 Taita Taveta has managed to contain swarms of locusts that invaded the county, officials have said.
County Agriculture, Livestock and Fisheries Executive Davis Mwangoma said the desert locusts have been wiped out after successive spraying using pesticides by national and county government experts.
The destructive and migratory insects invaded Mbololo, Ghazi and Mbulia areas in Voi and Manoa in Mwatate a week ago. They left behind a trail of destruction.
Briefing The Standard, the executive said experts from the National Pest Control unit contained the pests using aircraft-fit sprayers in affected areas.
"With help from the national government we managed to contain the locusts. We destroyed them before their eggs hatched," Mwangoma said yesterday.
The official said the Ministry of Agriculture had allocated the county three aircraft to effectively deal with locust invasion.
He said most of the yellow migratory locusts spotted in the area were mature and busy copulating, adding that the pests appeared to be searching for grounds to lay eggs.
"We sprayed all affected areas to stop further multiplication. The insects had also scattered in small batches at Canaan area in Mbololo location," Mwangoma said.
Government alert
He said the county government was alert to effectively deal with future locust invasion.
"We are calling on residents to help the county and national governments by reporting any invasion immediately to the relevant authorities for action. We have also trained farmers on how to detect invasion," said Mwangoma.
Recently, the United Nations Food and Agriculture Organisation warned that Kenya was likely to face a second wave of desert locusts.
Early this year the insects swept through parts of Northern Kenya, Central and Eastern regions, and experts are warning the insects could come back due to recent breeding.
In late 2019 and early this year, locust numbers surged in East Africa and the Red Sea region encouraged by what experts say was wet weather. They were dispersed by a record number of cyclones.
Swarms can fly up to 150 kilometres a day aided by the wind. They can eat as much food in a day as 35,000 people. Desert locusts feed on nearly all green vegetation and crops including leaves, flowers, bark, fruit, millet and rice.