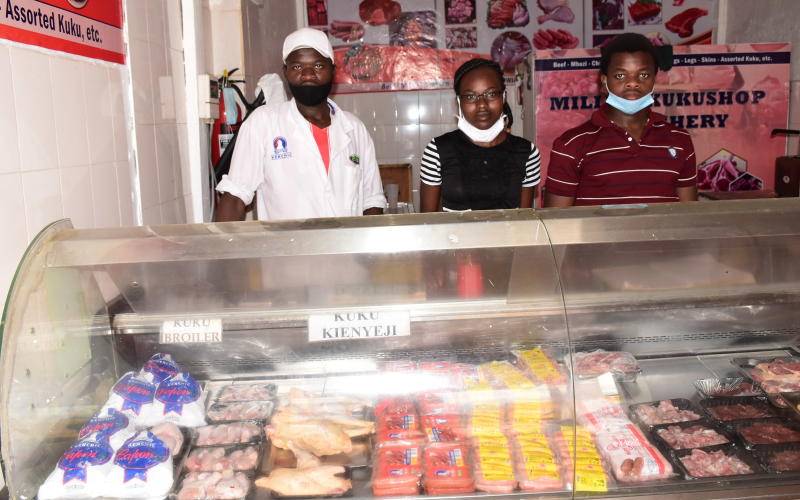 The future of poultry business is in technology and value addition, this was the resounding message at a recent webinar attended by the who-is-who in the sector.
Like their counterparts in the Western world, if farmers in Kenya are to boost efficiency and maximise profits, then tech and value addition is the way to go.
In developed nations, poultry keepers are have embraced cutting edge technologies that have revolutionised their ventures.
For example, robotics are emerging as a key player in chicken rearing. In the modern world, robots are used to perform tasks such as feeding birds, transporting, handling and packing eggs and managing shed ventilation.
Remotely monitor birds
In the chicken meat processing sector, robots are used to perform tasks such as automatic transfer of carcasses, detection of defective carcasses and other roles that require poultry man's keen eye. The use of robots is expected to increase in the future as other capabilities are developed that improve the ability to remotely monitor birds.
"For farmers with more than 20,000 birds, robots are the way to go. Having robots perform some of these tasks can cut down labour costs by at least 70 per cent," Peter Ndeche, an experienced poultry farmer in Kakamega says.
Ndeche, an agricultural engineering graduate says farmers can use the data relayed by the robots to improve on the welfare of the birds and maximise on profits.
Dr Ludovicus Okitoi, an expert in poultry farming and the Principal Research Scientist at the Kenya Agricultural Research and Livestock Development Organisation (Karlo) notes that to better manage poultry farms and keep at bay common diseases such as Newcastle disease, farmers must learn to use farm data. This is only possible through technology.
An equally effective way to a run poultry farm is embracing modern disease management strategies.
For instance, to manage Newcastle disease which is one of the leading killers of birds, Okitoi says a new vaccine introduced to the market early last year has proved effective.
"Karlo carried out investigations on the efficacy of the vaccine and from our findings, it is ideal for our environment. However, farmers must always adhere to strict hygiene procedures to keep poultry diseases at bay," Okitoi points out.
Value addition
On value addition, Okitoi says this is the surest way for farmers to reap maximum profits from their farms.
"You stand to make more by selling chicken in parts as opposed to live and whole. Do some research and come with the best way possible to market your products. Supermarkets are already attending to this market need," he says.
As consumers continue to become more health-conscious, Okitoi says poultry farmers need to take advantage of the rising demand for white meat.
"Supermarkets are selling chicken parts and are making more than the farmer who is sell whole chicken. I want to challenge poultry farmers to set up butcheries that sell purely poultry products. Currently we only have two of such butcheries in Kakamega and Eldoret," says Okitoi.
He challenges farmers instead of only selling live chicken to make delicacies like chicken sausages and samosas that fetch more cash.
"I am happy that university students have seized the opportunity in Kakamega by roasting chicken meat and selling it in parts. That's a good move but they should ensure they maintain the required hygienic standards," says Okitoi.
He further urges farmers to make their own feeds to reduce the cost of production.
To cushion farmers from unhealthy competition such as cheap eggs from neighbouring countries, Okitoi says there needs to be a policy change.
"We must address the root cause of our problems which I think is in the policy."
Bernard Kutwa, a livestock production officer in Bumula in Bungoma County says to market their products, farmers must also learn to make good use of social media platforms.
Kutwa calls on farmers to always change the script if what they already doing doesn't seem to work. He said while chick hatching is a lucrative business, many farmers still insist on rearing chicken until maturity which is more costly.