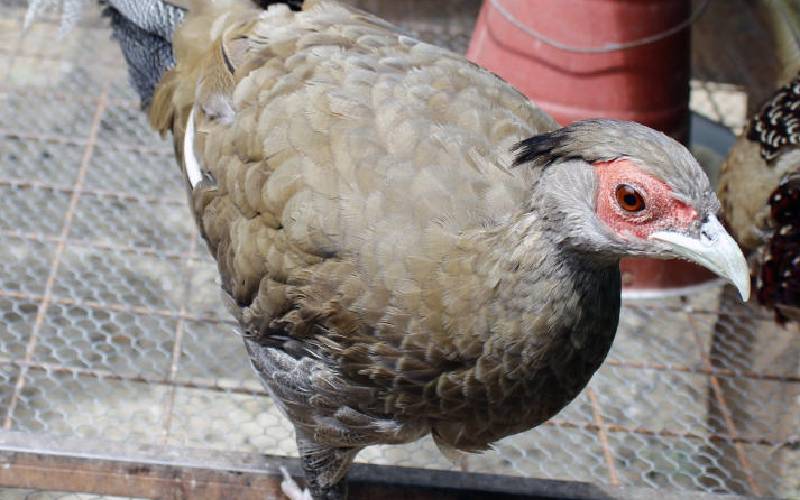 As customers flock to buy some of his ornamental birds, Murungi Muthamia insists they must have a licence from the Kenya Wildlife Service (KWS).
The manager of Tausi Farm has on many occasions turned away several clients with hundreds of thousands of shillings, who wanted to buy ornamental birds without a permit.
"That is the rule here. It is not my rule, but a government law that anyone who wants to rear ornamental poultry must have the permit," says Murungi.
He says every game has its rules.
"This is not a challenge but a total risk. If the government finds out l'm selling without a permit, they will revoke my licence and take the hundreds of birds away. I will be the loser," he says.
Even clients from outside Kenya need the permit, says Murungi.
Tausi Farm located in Karen houses hundreds of types of ornamental birds, including peacocks, quails, guinea fowls, ducks, ornamental chicken, pheasants, peafowls, partridges, pigeons, king pigeons, fan tailed, silk fan tailed, yellow necks and tragopaths.
Murungi inherited the farm from his father Phineas Mbaabu, who in 2010 received an award from then President Kibaki for being the top poultry farmer in the country.
VIP birds
The pigeons released in the air by President Mwai Kibaki, Prime Minister Raila Odinga and other dignitaries during the promulgation of the new constitution in August 2010 were bought from their farm.
The poultry sing, squawk, whistle, quack, croak, chip, chirp, caw, whisper and screech as Murungi moves up and down collecting eggs and feeding them.
"It is always like this from morning to evening, starting with cleaning their houses, distributing feeds and water, collecting eggs from layers and monitoring their overall welfare," he says.
Murungi took over the management of the farm from his father in 2012 after he retired. Mbaabu had started and managed the farm since 1988.
After graduating with a degree in Information and Communication Technology (ICT) from Jomo Kenyatta University of Agriculture and Technology (JKUAT), Murungi took up the farm.
"I am a part-time ICT consultant, but managing ornamental poultry is my full time employment," he says.
His passion for ornamental poultry started during his childhood when he cared for the birds any time his father was away. He knew then that ornamental birds are profitable because his father educated them and paid bills from the proceeds.
By the time he was inheriting the farm, he already had all the information required to manage the birds. He would read books and other materials his father had bought and websites.
Although his father started by importing wild eggs for ornamental birds, Murungi has been hatching those laid at the farm using a modern incubator he imported.
He says when diseases break out, he loses two or three birds, and this is quite a lot of money because they are expensive.
However, Murungi says he has learned and can easily recognise the presence of a disease just by looking at a bird's behaviour. When it's serious he calls in a vet.
Agri tourism
Murungi says guinea fowls are hardy and rarely get sick.
Since he took over, there has been steady growth and with it more profits. He is now expanding the farm and relocating to Ole Tipis Picnic site, along Kiserian-Isinya Road.
"I am now expanding to increase the number of foreign ornamental birds. Through my research, l have identified a good number of other types of birds not at the farm. I intend to get and breed them here. My new location – a free range system on over two acres – is meant to boost agritourism," says Murungi.
Visitors will pay Sh500 to see the ornamental birds.
Murungi says the farm has lived for over 30 years because it generates profits. There are not many farmers in ornamental poultry, which creates a huge demand.
"Unlike chicken, ornamental birds do not have competition for market, and that is reason they have a huge demand and market," he says.