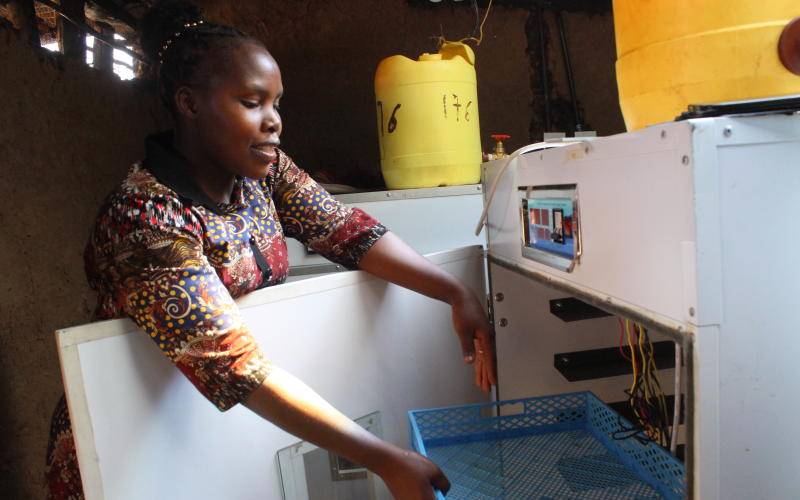 They say experience is the best teacher and Faith Jeptoo, a poultry farmer in Mosoriot, Nandi County can attest to this fact. She faced several challenges when starting her hatching business in January, but she is now a master of sorts.
"At the beginning, I suffered many losses because I was not keen on small details that affect hatching rate. But now I have learnt from my mistakes and business has picked up well," says Jeptoo a Bachelor of Arts Degree graduate.
She now incubates and hatches 1,000 eggs to meet the high demand for chicks that has risen exponentially since Covid-19 struck. Jeptoo shares with Smart Harvest and Technology the lessons she has picked on incubation and hatching.
Breeding hens
The most important consideration in incubation, Jeptoo says, is the quality of hens that lay the eggs for hatching.
"I buy the eggs for incubation in Kitale at Sh25 each from a breeder with a track record. I couldn't get eggs for incubation in Nandi and Uasin Gishu. When I got the link in Kitale, I went there to confirm the feeding and the rooster to hen ratio and I was satisfied," Jeptoo explains.
Quality of feeds fed to hens also determines success of the project.
Selection of eggs
The 29-year-old poultry farmer says selection of eggs for incubation is a meticulous process that determines hatching rate.
Jeptoo says before incubation size, shape and texture of the egg should be thoroughly examined.
"Eggs for incubation should be medium size. From experience, small chicks can be hatched from small sized eggs while the large sized one may not hatch at all. Eggs that have dots are also not fit for incubation because it is an indication they have large pores. Avoid eggs with thick lines because this indicates a hard shell which may not easily hatch," Jeptoo advises.
She continues: "Eggs should be candled (placed before a bright light) one by one before incubation to get rid of cracks."
Jeptoo urges farmers to wipe soiled eggs with dry materials and avoid washing them, noting that use of water softens the shells.
She says eggs that have stayed for more than a week after laying are also not good for incubation because the longer they stay the lower the hatching rate.
"Eggs should not be incubated immediately after transport. They should be kept for 24 hours to allow the yolks to settle," the farmer says.
After selection, the eggs are put in the incubation trays where they will be closely monitored between one to 18 days, she says.
During incubation, the incubator should be set at 38 degrees celsius and humidity maintained at 60 per cent.
To maintain humidity, she says, water is continuously added to a trough within the incubator either manually or through an automatic system.
"I have installed an automatic water system, with a ball bulb regulating the release of water to my incubators to avoid frequently opening the machine to add water."
Hatching
Between day 18 to 21, the eggs are moved from the incubator to hatcher where they will hatch on a tray basket. This time, the eggs are not turned, Jeptoo explains.
Visitors are discouraged from touring the hatchery since a high standard of hygiene is recommended to minimise diseases.
"Some eggs will hatch on day 19 but a majority hatch on the 21st day. Others delay up to 24 days. You shouldn't feel worried when the hatching delays by one or two days," says Jeptoo.
One of the biggest challenges in hatching is the high cost of power, she notes. She spends between Sh16,000 to Sh20,000 on power per month.
"The first time I was slapped with a Sh16,000 monthly bill, I though it was an error. I went to Kenya Power offices to complain but I was told it was my actual bill. I asked a farmer doing incubation and she told me that she spends a similar amount," Jeptoo recalls.
Marketing
A standby generator is a must for any incubation project because of frequent power outages in most regions, she says.
Jeptoo says online marketing - Facebook and Whatsapp- has seen buyers locate her remote location in Mosoriot.
"I am also in online peer groups which connect us to market and technical services," she adds.