Farmers, university produce coffee-flavoured yoghurt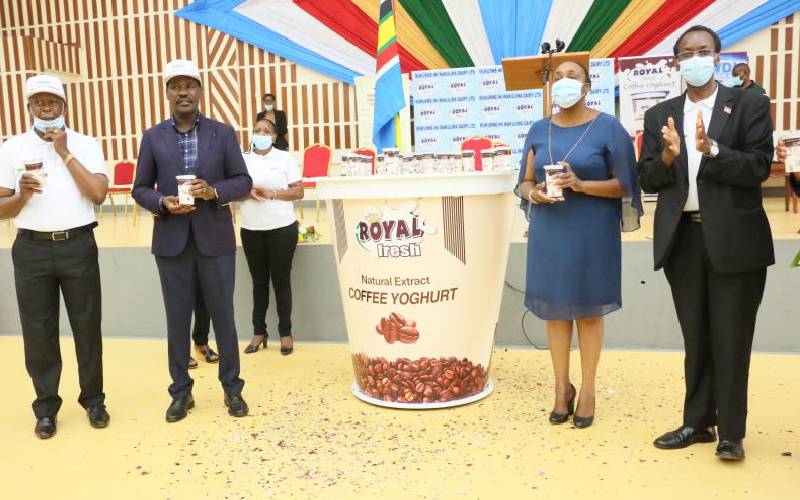 Coffee lovers now have a new beverage to try out thanks to value addition opportunities.
Dedan Kimathi University of Technology (DeKUT) and Mukurwe-ini Wakulima Dairy (MWDL) have partnered to make coffee flavoured yogurt.
The new flavour has a strong aroma of Arabica coffee and will be available in supermarkets and retail stores.
Yoghurt flavours in the market include (different brands) strawberry, vanilla, banana, peach, wild fruits and mango.
Director at Institute of Food Bioresources Technology (IFBT) Eddy Owaga says the natural coffee-flavoured yoghurt has improved antioxidative and antimicrobial (ability to kill microorganisms) properties.
"Innovators at IFBT of DeKUT led by Prof Beatrice Mugendi developed and patented a novel premium quality natural coffee flavoured yoghurt," says Dr Owaga.
Pressing technique
He explains that the invention involves the novel process of obtaining coffee extract using modified extraction technologies.
"The extract obtained by the modified pressing technique is used in flavouring yoghurt, giving rise to a unique coffee aroma and a sweet, long pleasant aftertaste," he observes.
MWDL Chief Executive Officer Peter Kamau noted that the innovation is a demonstration of university-industry partnership in resolving a local challenge.
"DeKUT signed a license agreement with MWDL towards industrial scale production and marketing of natural coffee flavoured yoghurt in the supermarkets and retail outlets across the country and beyond," Kamau explains.
DeKUT Vice Chancellor Ndirangu Kioni says that this unique partnership comes at a time when new policies are being developed by counties aimed at promoting value addition of dairy and coffee products towards improved food security and livelihood of farmers.
"DeKUT is endowed with over 280 acres of coffee and is involved in research and innovations of novel dairy and coffee value addition technologies thus providing raw material for the projects," Kioni explains.
DeKUT lecturer Paul Sang says yogurt is a highly-nutritious and easily digestible dairy product.
He notes that it is a rich source of protein, minerals and vitamins and improves gut health and immune system.
Consumer awareness
"Growing competition and consumer awareness on safe food products has led to increased research and innovations on foods with highest quality that meets customer expectations in terms of nutritional and flavour properties," Dr Sang explains.
Last Friday, Agriculture Cabinet Secretary Peter Munya presided over the launch of the coffee-flavoured yoghurt.
MWDL Chairman Muhika Mutahi says the dairy was started in 1990 as a self-help group with the main objective of collecting members' milk and marketing it to milk processors.
"It is currently collecting 50,000 litres of milk daily and plans to collect and process 80,000 litres as per its five years' strategic plan," he says.
With the dairy and coffee sector currently facing challenges including low returns due to limited value addition opportunities, coffee flavoured yogurt is expected to give a lifeline to farmers.
Want to get latest farming tips and videos?
Join Us