Youth and Women top on Syngenta Foundation's agenda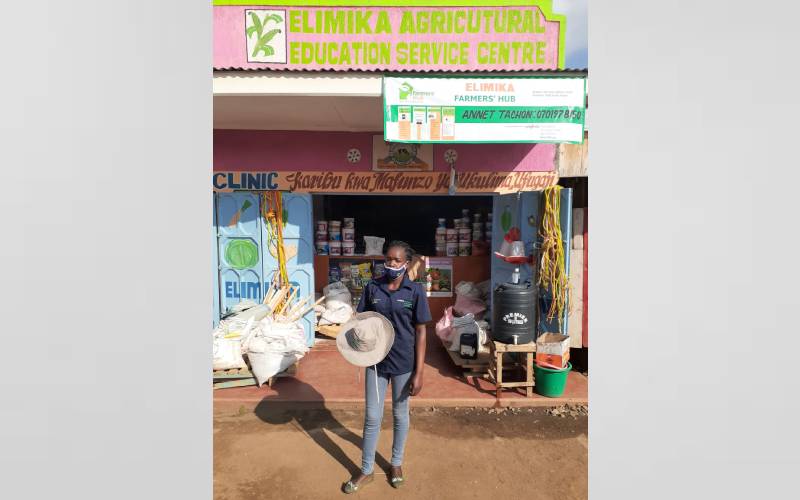 The Syngenta Foundation for Sustainable Agriculture in East Africa (SFEA) diversity and inclusion best practices advocates for the development of agricultural innovations for all smallholder farmers and rural entrepreneurs regardless of gender and age.
Through the rural entrepreneurs referred to as the Farmers' Hub, the Agriservices team is supporting smallholders to access needed agricultural inputs efficiently.
SFEA has experienced a growing number of rural agribusinesses including youth and women in Kenya over the past 2 years. We're highlighting some of these businesses to provide more insight into the emerging opportunities in agribusiness.
Female youth driven agribusiness
Annet Tachon, 24 years old, and Ruth Njeri, 28 years old, owners of Elimika Farmers' Hub was recruited by SFEA in January 2020. In collaboration with the Agriservices team, Elimika Farmers' Hub has been linked to partner suppliers of farm inputs like seed, fertilizer, and crop protection, who have opened a customer account for this business. This allows the business to access stock on credit and in bulk which in turn means it always has in stock the products that the farmers need.
Elimika Hub started as an agrovet serving a few farmers in the town center and has now grown to operate as a distributor serving more than 20 agrovets in Molo Sub County with a reach of 2000 farmers.
This has seen the sales increase significantly as the farmer base is now bigger. It has identified the need to bring the input supply services closer to the farmers and hence as opposed to sitting in the shop and waiting for walk-in customers, they visit farmers in their farms and offer extension and advisory services. Both ladies have academic qualifications and field experiences in Veterinary and Agronomy.
"After finishing school in 2018, studying Animal Health at a local university, the formal sector did not have many opportunities to get jobs. Therefore, with my little saving and support from my parents serving as the starting capital, I decided on creating an agrovet. " Annet explains.
Elimika's current challenge remains adequate working capital and has accessed some credit facility to raise working capital with help from SFEA and its financial partners.
Youth agility in adoption and use of technology
A major challenge to farmers is access to quality inputs and reliable markets. A challenge for a farmer, however, represents an opportunity for agribusiness.
One youth in Nyandarua, Moses Ndura, 24 years old, has taken on this opportunity. Through his Shambaline Farmers' Hub, he is serving farmers by linking them to quality inputs like seeds and seedlings and also linking them to markets.
Being a technology-friendly kid, he uses WhatsApp and twitter to raise awareness about his Hub's services as well as market sources. Moses, a farmer who is also skilled in the cultivation of horticultural seedlings; spinach, cabbages, tomatoes, and broccoli also promotes his seedlings business to these farmers by using WhatsApp groups.
In an attempt to provide a permanent solution to the business problem, Moses collaborates with his colleagues, former schoolmates, to source markets in Machakos County to supply them directly. With SFEA's help, Moses and his peers are in the process of creating a stable framework for the market.
Woman led agribusiness turned family earner
A household in Nyandarua County has internalized the Farmers' Hub business model and in turn, created a structure that involves members of the household occupied in various entrepreneurial activities leading to multiple revenue streams.
Margaret Gicheha, the owner of Gichaka Farmers Hub, was recruited, trained, and is now linking farmers to quality inputs and services.
A challenge Margaret picked from farming is that she and her fellow farmers were moving long distances to access farm inputs. She identified an opportunity to aggregate input orders from the farmers, placing one order, and having them delivered to one collection point which is her Hub.
This was the starting point of her agribusiness. While supplying the inputs, her husband used the same network of farmers to promote his land preparation services using his tractor.
On the input linkage side, Margaret uses one of her sons, who has a motorbike to deliver the inputs to the farmers at a fee. The son uses the same opportunity to promote his spraying services as he also owns a motorized spraying machine. One of her other sons has a roadside "tuck" shop, near the home where he sells some of the produce from his family's farm.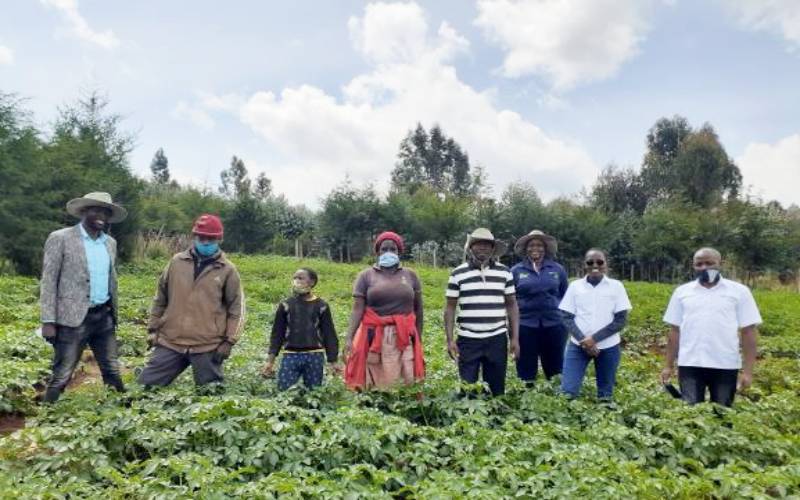 Margaret takes pride in involving her household in her agribusiness and generating additional revenue streams. Through SFEA she is linked to an input supplier who delivers the inputs to her Hub which serves as a collection point for her farmers.
Marketing opportunities for farmers
Nakuru County is one of the leading producers and suppliers of potato in the country. A challenge that has consistently affected the farmers here, like many other regions, is access to reliable markets.
One woman in Kuresoi North, who has internalized this challenge and understood the potential of her Aerial Farmers' Hub, in providing a solution is Florence Tum. Through her Hub, Florence helps her farmers in picking better quality seeds for potato production and orders on their behalf from seed producers.
Much more importantly she sources for markets that offer better prices and aggregates the produce from her farmers. She sources for markets in Busia and as far as Sirare, Kenya where some of these potatoes eventually make it to the Tanzania market. By creating a market for her farmers, the farmers are encouraged to invest more in their farms in terms of using quality inputs which she also supplies to them through her Hub.
These are some of the agribusinesses among many, identifying challenges facing the farmers and translating them into opportunities. SFEA desires to see more and more smallholder farmers access better farming resources and sustainably so through agribusinesses.
Diversity and inclusivity form a basis of engaging more and more entrepreneurs and as our Diversity and Inclusion champion Jackline Chemtai says "Ending gender inequality is not just the right thing to do, it is the smart thing to do and women in agri-business, when empowered, will not only impact their immediate family but the community at large."