From swampy plot to rich fishing hub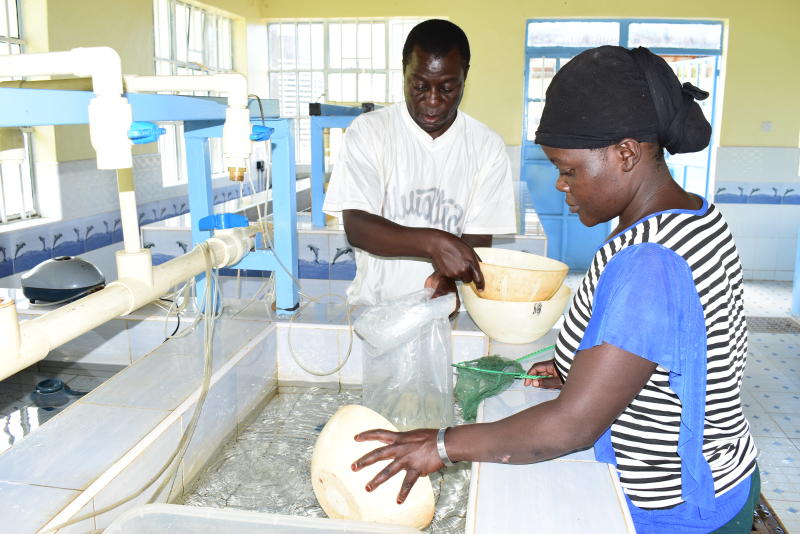 As we enter the expansive Mwitoko Fish Farm, it is a hive of activity. Workers clad in gumboots and dust coats can be seen from a distance feeding fish in one of the ponds.
For maximum security, CCTV cameras and floodlights have been mounted at strategic points.
Welcome to Mwitoko Hatchery and Aquaculture Training Centre in Emuhaya Sub-County, Vihiga County, which has been transformed from 14-acre swampy land full of papyrus reeds into a fish hatching hub. Actually, Mwitoko means papyrus reeds in Abanyole, a Luhya subtribe.
Research Centre
The farm has 31 fishponds with rabbits and poultry houses erected above fishponds. The water from the fishponds has an outlet that flows into another plot adjacent to the fish farm where sukuma wiki, nightshade and spinach are growing. This way, nothing goes to waste.
Wilson Munala, the county director of fisheries, says the project is one of the flagship projects launched by Vihiga Governor Wilber Ottichilo when he assumed office in 2017.
It is among the 2010-2013 Economic Stimulus Programme State projects that are still standing tall.
When Dr Ottichilo took over, having seen its potential to stir the economy, he pumped in Sh32 million to revive it.
"This is a big investment and so far we have invested over Sh32 million in it. The prospects of getting dividends are very high. We have created jobs for the locals and many have embraced it," said Governor Ottichilo.
The fishponds were first stocked mid last year with at least 1.2 million tilapia fingerlings and 500,000 cat fish. The aim was to supply fingerlings to more than 1,800 fish farmers. A year down the line, the county has put up 1,200 fishponds covering 44.7 acres.
"Ten out of the 31 fish ponds have parent stock of mainly Nile Tilapia (Oreochromis niloticus) and cat fish for brooding fingerlings. The remaining 21 ponds are used for keeping fingerlings (nursing ponds) for distribution to fish farmers," says Mr Munala.
They have a ripe fingerlings market in Kisumu, Siaya, Busia, Kakamega, Bungoma, Uasin Gishu and Nakuru counties.
Munala says they always advise farmers to rear the monosex tilapia since it is big and grows very fast.
During production, Munala says they take the hatched fingerlings into an indoor breeding pond for 24 hours for acclamatisation and then transferred to the breeding ponds where they are fed for 28 days before being sold. Indoor ponds, he says, should have temperatures of between 25 and 29 degrees.
The fingerlings are fed on hormone treated feeds (methyl testosterone) for 28 days to aid in sex reversal. This is a process where all females are converted to males. Males are ideal because they take a shorter time to mature unlike females that spend a lot of time hatching eggs and therefore cannot be reared for commercial purposes.
"In a breeding pond, one male fish is supposed to serve between four and five females. After stocking fish that has attained the age of reproducing, you wait between 18 and21 days and harvest the eggs. At this time, the male fish will have placed sperms on the eggs and will be ready for hatching," says Munala.
The incubation tank is fixed with a water heater that ensures the water is warm at 29 degrees. When it hits the maximum temperature, it automatically turns off.
The incubation tanks are also fixed with jars where water flows in and out freely to make the 'eggs think they are in the mouth of a fish' making hatchability rate almost 100 per cent.
Business has been good save for Covid-19 economic shocks.
"We sell over 100,000 fingerlings every month but due to Covid-19, the number drastically reduced to between 20, 000-30,000 fingerlings. Each fingerling costs Sh5 much cheaper than other farms that sell at Sh10," says Munala.
Joel Anyula, also an expert in fish production, says fingerlings are carried in a special carrier bag in which a third of its capacity is filled with water and the remaining two thirds with artificial oxygen.
"The oxygen allows for the transportation of the fingerlings to its destination for at least eight hours. The farmer is supposed to leave the carrier bag on the fish pond to float for some time for acclamatisation purposes and then open the carrier bag to allow the fingerlings to swim to the new pond," explains Anyula.
Big plans
Anyula says if this procedure is ignored and the fingerlings are poured into the new pond, they will all die.
According to Anyula, after two months, the fingerlings should be fed on pellets, mash and planktons. After six months, they will be ready for harvesting.
"We are building a fully-fledged training school for fishing farming. Downstream we are also starting a big irrigation scheme for fish farming," Ottichilo says.
For those interested in fish farming Ottichilo says: "You don't need to have a river to do fish farming but a small compound and our people will train you on how to make a fish pond and supply you with fingerlings."
Want to get latest farming tips and videos?
Join Us