I quit dairy and found success in potato seeds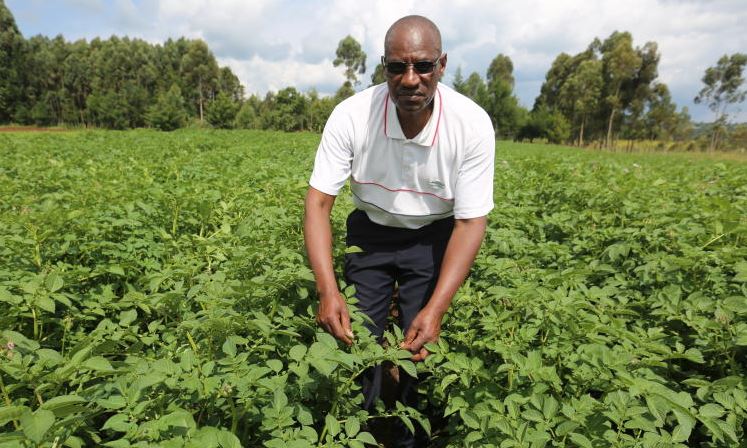 A training programme in 2016 opened Sammy Sugut's eyes to many possibilities in potato farming.
Before then, Mr Sugut was a well-known dairy farmer in Lessos, Nandi County, but he is now a key player in the potato sector.
"I sold away a good number of my cows because it was no longer profitable. The high cost of animal feed coupled with low returns made dairy farming an unsustainable venture in the long run," recalls the farmer who had several high breed cows.
Now, at his farm in Kipsirbo village, Sugut is making great strides in production of potato seeds, in an area where farmers are used to planting uncertified seeds.
Before venturing out, he noticed that farmers were buying potato tubers from local farmers, resulting in poor yields. Sugut saw an opportunity and is making a killing.
To sharpen his skills, Sugut together with a group of potato farmers from Nandi County, benefited from a training by International Potato Farming.
After the training, Sugut took home one key lesson – the potential in production of potato seed.
"At the training, I discovered I was not producing optimally because I was not using certified seeds," he says.
At that time, he was producing about 100 (50 kilo) bags from an acre of land which was adjacent to a dairy section.
He took a gamble and started to produce Shangi, Sherekea and Unica potato varieties for local farmers.
"I received 4,000 apical potato cuttings to start my seeds production and I planted one acre which gave 300 bags of seed."
On average, the farmer says, one cutting yields between 15 and 20 potato tubers.
His record production per acre in 2016 encouraged other farmers to embrace potato farming.
"I started by planting one acre and now I am doing six acres. I harvest thrice annually and from each acre I get 300, 50kg bags. I sell a bag of potato seeds at Sh2,500," he explains.
From one harvest (that is three months), Sugut harvests 1,600 bags and makes Sh4.5 million in sale of potato seed.
Looking back, he says his move has paid off.
Soil testing
He also attributes the high yields to soil testing which determine the quantity and type of fertiliser.
He recalls how he once recorded reduced yields and when he took his soils for testing, he discovered it was acidic.
He had to use fertilisers that are less acidic, with calcium and magnesium to raise the soil pH.
"One of the biggest mistakes farmers make is not carrying out soil testing," he observes.
Sugut says out of the three potato varieties he produces, most farmers from the region prefer Shangi because it matures faster.
On marketing, he also uses digital platform called Digital Soko established by the National Potato Council of Kenya.
According to Sugut, the digital platform connects farmers to where to get potato certified seeds and buyers.
Though is he doing well, the sky is the limit.
"I still have a lot to do. The 300 bags per acre in one harvest is not my desired optimum production. I want to join the big league who produce between 350 bags to 400 per acre in one harvest."
Unity in numbers
Sugut who has employed two workers, recently mobilised potato farmers in Nandi County to form a potato farmers' cooperative society.
He says potato farmers can now access loans from the Sacco to grow their production. He was appointed chairman of the farmers' Sacco.
"To make a stronger bargaining power, we are uniting more farmers to speak in one voice," the farmer says.
Already, the Sacco has acquired 40,000 apical cuttings, and multiplications are ongoing in selected farms.
Expert take
For farmers hoping to go into seeds production, agronomist Silas Birgen who is also the lead consultant in Nandi Potato Farmers Association explains the process.
From soil testing and analysis to disease and pest management, potato seed production requires skills and patients, he says.
First, Birgen says a farmer should understand their soil well. "Take your soil sample for testing and analysis. The analysis will provide results on the pH, nutrients and history of bacterial wilt in the soil.
"Ensure that the soil samples are presented to the Kenya Plant Health Inspectorate for the testing and professional analysis," he advises.
According to the expert, crops should not have been planted on the soil you intend to produce your seeds.
He says there should also be a 100 metres distance between your potato seed farm and the neighbouring potato farm to avoid cross pollination, spread of disease and pests.
"The farm should also be located on a gentle slope area for better drainage," he says.
Birgen says a farmer should be careful in seed selection.
He lists the following as the criteria to choose potato seed:The market and variety.
He says the seed should meet the existing market demands and the type of seed should be able to produce in the environment.
Some varieties including Shangi, Sherekea, Unica and Kenya mpya seeds do well in cold conditions while Dutch varieties thrive well in warm areas, he observes.
"Always ensure that the seed merchant you are dealing with is recognised by Kephis to avoid cases of poor quality seeds," Birgen warns.
Want to get latest farming tips and videos?
Join Us