What I learnt from capsicum export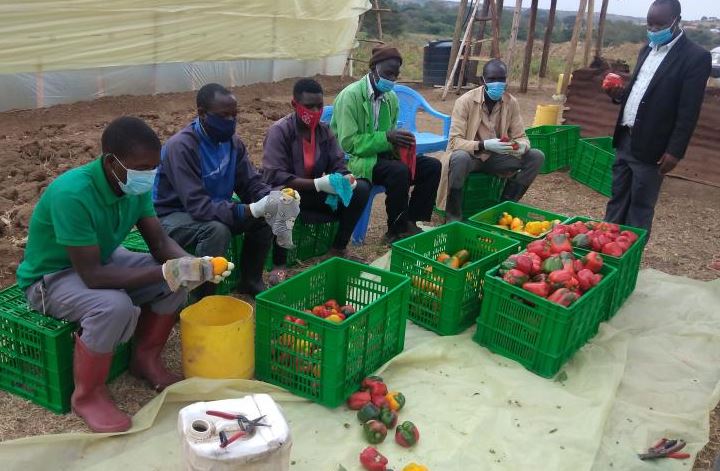 For over 15 years practising as an agronomist, Joseph Ongeri had never thought of commercial crops farming.
Though he was interacting with various crops and visiting farmers regularly and was aware of the opportunities in agribusiness, he never thought of active farming.
However, he was pushed from his comfort zone after farmers consistently pestered him to set up a demonstration plot where they could visit and get practical lessons.
"I interacted with farmers who kept doing their own things despite my professional advice. Since some thought l was too demanding, they challenged me to set up my perfect farm, to prove it was doable," Ongeri tells Smart Harvest during a visit to his farm in Juja, Kiambu County.
The agronomist accepted the challenge, not just for demonstration farms but also dived into commercial capsicum farming to tap into a lucrative export market.
Best practice
Early last year, Ongeri established a nursery and planted capsicum seeds.
"Capsicum seeds take 21 days to germinate and 45 days in the nursery before they are transplanted," explains Ongeri, who holds a Bachelors Degree in Agriculture from the University of Nairobi.
To thrive, seedlings in a nursery he says, requires limited sunlight, adequate watering, weeding, pest and diseases management.
Ongeri explains that being an expert, managing his capsicum was easy and smooth journey. He grows them in greenhouses where he can control processes easily.
Knowing the importance of best practice, he does not do shortcuts.
"Many farmers think soil testing is a waste of money. But it is a key step in production. It helps to know the nutrients missing and appropriate fertiliser application."
After three months, Ongeri got his first harvest.
"The cost of raising one stem of capsicum is Sh30 inclusive of all expenses like buying seeds, fertilisers and chemicals. In return, a kilo fetches between Sh100 and Sh200."
With time, he has increased his greenhouses from one to five.
He harvests three times a week, sorts and grades them. Grade one is for export while two and three are sold locally.
He says care should be taken when harvesting and handling to prevent injuries to the plant, whose stems are brittle.
His foreign export market includes Netherlands, Israel and China, while locally, Nairobi, Eldoret, Kisumu, Nakuru and Mombasa.
"Finding market was easy for me because l had networks abroad. For farmers interested, they can search online for information. But a good place to start is the Horticultural Development Agency offices in your locality," he notes.
Though he cracked the export nut, things are a bit slow now with the Covid pandemic economic restrictions.
Ongeri suffered huge losses when the international flights were cancelled and has learnt painful lessons.
He had never thought of investing in a cold room. So when his produce couldn't be exported, he was forced to hire cold rooms in Nairobi, which he says, was costly.
Slowly, business is picking up with reopening of the economy.
"We might not be where we were at the end of last year, but were are somewhere."
Meanwhile, it is harvesting time at the farm. One plant of capsicum gives between 15-20kg in the entire season, if well maintained.
One season is about 9-12 months, before they are uprooted and fresh ones are transplanted.
Like all agri-ventures, he has faced challenges.
Ongeri says his initial challenge was employing farmhands who had no basic understanding of crop farming. To address this, he was forced to fire a number of them and spend more time at his farm.
Today, he has 12 farmhands plus a manager and supervisor. So far so good.
Apart from green capsicums, Ongeri plants coloured ones which include red, yellow and orange. He says management of the coloured capsicums are the same as green ones.
He however explains that coloured capsicums are more nutritious, especially yellow ones.
He says market for green capsicum is huge compared to coloured ones, but soon the coloured one will overtake the green ones as people discover their high nutritive value.
According to nutritionists, capsicums are an excellent source of vitamin A and C (red contain more than green capsicums).
They are also a good source of dietary fibre, vitamin E, B6 and folate.
Want to get latest farming tips and videos?
Join Us